Following a crazy once in a lifetime Summer of playing a selection of the UK's biggest music festivals thanks to the guys at Red Bull Bedroom Jam (you can see what they did here), Essex pop-punk outfit The Hype Theory may not have been the winners of this year's competition, but they're definitely the first to get a full-length album out, entitled 'Glory Days'. With the release fastly approaching, we got a hold of lovely front lady Katy Jackson by the scruff of her neck to share with us what the tracks are all about and how everything came together: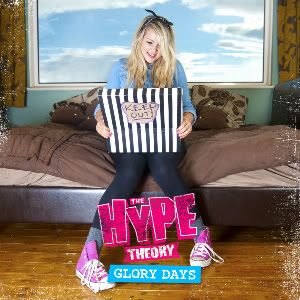 01.) Hold Tight:
When I was given this song by Tom (guitar) and Sean (guitar), I fell in love with it straight away. It had so much energy. I was in a really bad mood when I was writing the lyrics because a lot of friends had become enemies, so I started to write about it. This song is about people who don't understand what real music is about, people who need to let go and stop worrying so much about people thinking they are 'cool', and about letting go and having fun for once.
02.) Kid At Heart:
I found this song so easy to write. It took me about half an hour, and when I showed it to the rest of the band they said they hated it. Then when they listened to it again, and again, and again, they all changed their minds and now think it's one of the strongest songs on the album. This song is about the feeling you get when you first meet someone and spend the whole Summer being inseparable, something that everybody felt when they were young and had their first boyfriend or girlfriend. Something we all remember like it was yesterday.
03.) You're Going Home Alone:
Growing up in Essex has always been a massive talking point whenever I meet someone from another county. Where I live is pretty stereotypical, and I love it for that reason. This song is about where I grew up and the people that live here, the life styles that they lead and the awesome nights out that I've had with my friends.
04.) Rich And Famous:
As with many bands, we all seem to be stuck to our computers and can't help but read about the massive amount of success some bands get, which can sometimes be really hard to take when you want a taste of it and it seems so impossible. This song is about all the bands that make it big and how every band in our position would kill to be in their shoes.
05.) Where We Started:
I had a horrible case of writers block when I was given this track to write by our guitarist Sean. I stayed up for hours every day for about a week trying to come up with something. I got so fed up by the end of the week, and I was just about to give up when I thought I'd try listening to my favourite band (Mayday Parade) to get some inspiration. The first song that came on was 'Miserable At Best', to which the opening line is "Katy, don't cry / I know your trying your hardest". It was such a random moment, I couldn't stop laughing and I then wrote the song 'Where We Started' pretty soon after. It is my favourite track on the album. The song is about how relationships always change after a few years, and how you wish you could go back to how it was when you first started.
06.) He's Your Problem:
Everybody has been there: that relationship that didn't go according to plan, the one that had a really messy ending and that you'd rather forget about. That is what this song is about, ending a relationship based on lies and cheating with a person that your not quite sure how you managed to fall in love with in the first place.
07.) These Are The Times:
This song is about when I moved away from home and left everyone I knew and loved behind. It's about how you know you have to grow up, but you just don't want to and you don't want anything to change. It's about my friends and the best days of my life. When I played this song to the rest of the band, they loved it straight away because they could relate to it having been through the same thing.
08.) We Will Be Singing:
This is the oldest song on the album, and it's one of the first songs we wrote together as a band. This song was the first time we knew what we wanted to sound like as a band, and even though we've played it a million times its still one of our favourites for that reason. The song is about being glad to see the end of a relationship and starting a new chapter, when things have changed for the worse and you want out before it gets really messy. It's not about being sad that a relationship is over, it's just recognising when it's run its course and it's time to let go and move on.
09.) Our First September [Bonus track for physical release only]:
I wrote so many different versions of this track because I really wanted to write a song that people would relate to and would show a more vulnerable side to the band. We recorded what we thought was the final version back in December 2010, and then I re-wrote and re-recorded it at the end of the Summer 2011 because I had a whole new view on what I wanted the song to be about. The song is about how you think everything will last forever, but then when you get older things change, people change and you change, and what used to be so right ends up being so wrong.
'Glory Days' is out on October 10th 2011 on Small Town Records.