Orlando post-hardcore outfit Sleeping With Sirens released their sophomore record, 'Let's Cheers To This', on May 10th through Rise Records. With a series of great energetic songs with emotional and deep meaning across the whole album, we asked frontman Kellin Quinn to fill us in on the meaning and focus behind the album and its 11 solid tracks: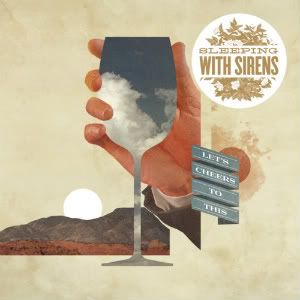 01.) Do It Now, Remember It Later:
A rebel track aimed at anyone who attempts at standing in the way of your hopes and dreams. For our band, this would include critics, sceptics and sometimes the very people we work with. "Remember when they said that what we want could never be done?" "Look who's laughing now". Our dreams will come true, period. That's the mentality we hope anyone would have when it comes to your future.
02.) If You Can't Hang…:
A depiction of three relationships and the lessons we learn along the way. A pre-chorus was in my head for this song while waiting to play a show in San Francisco, and it was infectious; "If you can't hang then there's the door baby". I probably looked like a crazy person singing this tune in my head as I paced up and down the busy streets. I knew this was a song our band could not ignore! Jesse Lawson (guitarist, second song writer) and I were used to working like this together, we finished the song that night before the show started. There was no doubt, 'If You Can't Hang…' would be on the record, there would be no doubt this song would be a favourite.
03.) Who Are You Now?:
"Who are you now?" "Did you say what you want? Don't go back to the start". This song means a very great deal to me. Probably one of the cheesier tunes on the album musically, but we knew that before I put a pen to the page. A message of hope and self-reflection is what came out of this track, sometimes the easier the song is to play, the more room it gives me to write melodies. 'Who Are You Now?' is full of hooks, but it's also full of meaning: "Don't wake me up if I'm sleeping this life away". Have we not all felt like that? I wouldn't mind skipping a day or two every now and again, there are a few moments in life I could do without. Those moments shape us and ultimately make us who we are. "Sometimes you gotta fall before you fly" "We're gonna work it out". I live by that line, if what doesn't kill us makes us a little fucked up, yeah, but we also become stronger! Never giving up is a theme to this album, and this song holds true to that.
04.) Four Corners And Two Sides:
This is a song about faith, and where you stand. Bob Dylan once said something I'll never forget in the track, "You gotta serve somebodyI. Dylan wrote "It may be the Devil, or it may be the Lord but you're going to serve somebody". This is the heaviest track on our album and it regards a touchy subject, and I figure those two ingredients make for a good scream along. "They say I'm a sinner, I'm not the only one" "You want to point your finger, better make a choice tonight". I don't want to say too much about the words to this song, because I want it to mean whatever it is you get out of it.
05.) A Trophy Father's Trophy Son:
We all know what divorce is, it's as common today as cream in coffee. If you decide you don't love the person you are with anymore, a signature and a few dollar bills is all you need to be rid of that pesky husband or wife you married. How you ended up with them is a mystery to you! You'll say, but what about the son or daughter? Do we really understand the role it plays on a young person's life? This is what I was thinking when I sat down to write this song. I thought about all the words someone like me would want to say to a father, who was man enough to make a life, but not man enough to see it through. It doesn't surprise me that this particular song is one of the most relatable on the album, but it does frustrate me though. I wrote this song to the point, and many will criticize my lyrics or claim them to be cheesy, but why? What point is it other than to write exactly what I or anyone else would really say to a mother or father who walks out on your life! You would ask "Why are you walking away?", and some years later say, "I buried the thought of you in my mind". That's not cheesy, it's real life.
06.) Fire:
Jack Fowler, that's all. Our lead guitar player showed us the riff, or lead for the opening of this song, and everything else fell right into place. There are some songs that just write themselves, and 'Fire' is no exception. This song is about the drive we all have inside ourselves, knowing that the things we do can consume us. We all envisioned this track rolling with the credits to some big budget action film like Transformers or something. 'Fire' always had that epic movie soundrack sound to us, so Michael Bay, hit us up anytime.
07.) Tally It Up, Settle The Score:
This was the first track intended for our new album. We played it many times over and over, so before even entering into the studio it seemed quite redundant. This song is a dark horse track to me though, meaning each time I listen to it, I grow to like it more and more. I love the energy and attitude of this song. "I hope this makes you nervous" is a line aimed at the bands that may be on top right now, and a warning that we want that spot, and we're not giving it back when we get there!
08.) Your Nickel Ain't Like My Dime:
We were always very iffy about releasing this song on our album. I personally love this song. I'm sure the band would peg 'Your Nickle Ain't Like My Dime' as the least favourite song, but I think it has a vibe that not many bands can pull off in our scene. Don't get me wrong, I can't run all over town with the likes of Jonny Craig, or as my band calls him "Yhanny Creas". I can get a little R'n'B though, and I can attempt to at least making panties moist, if not wet, haha. This song has a fun energy, and I'm excited to pull some girls on stage and sing it to them live.
09.) Postcards And Polaroids:
This track is my favourite song on the album. It flows perfectly from the music to the melody, from start to finish. I listen to this song most often, and every time it ends, I say it's perfect. That's not a thing I say that often with music we write. I would say for our band that 'Postcards…' is definitely one of our most mature performances.
10.) All My Heart:
Jesse Lawson and I wrote this song with a bottle of Jack and an acoustic, and that's how it remained for the album. It's a great love song, a lasting love. "Every year that goes by, a year older we are". "You'll still be beautiful then bless your beautiful heart". I think real love can last, if you remember how you felt when it started, and keep that in mind.
11.) Let's Cheers To This:
This is a song titled after my five-year-old stepson's excitement for the New Year. As the adults were sippin' champagne and watching Ke$ha humiliate herself in Times Square, the youngest comes flying out of his room with sparkling cider in hand screaming "Let's cheers! Let's cheers to the New Year!" In turn, the song and the album is a cheers to triumph, hard times, success, and to life itself. "I've got the whole world in front of me". "Not letting go 'til I say". May we all remember that we can do anything we want if we aren't afraid to give everything we have! Make your life count! Cheers.
'Let's Cheers To This' is now available on Rise Records. You can read our review of the album here.