After vocalist Mario "Mazz" Gambardella took a brief break from the band to go travelling across the world, London's Pariso returned back into the studio all guns blazing to release their recent brilliant full-length, 'Nothing Beyond, Everything After'. With such passion and aggression held within a record that seemingly had a quick turnaround upon Mazz's return into the fixture, we spoke with the frontman and fellow bandmates Alex Fitzpatrick and Stuart Anderson to get to the core of how the release came to be. They shared with us the meaning behind the record's title, the tribulations behind its creation, the meaning behind each and every track and much, much more.
So, make yourself a drink, sit down and learn more about Pariso and 'Nothing Beyond, Everything After' than first meets the eyes/ears: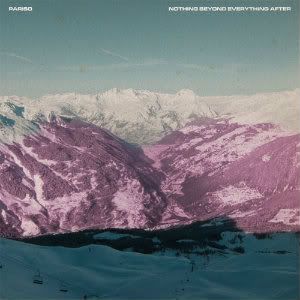 ALBUM TITLE MEANING AND BACK STORY:
Mazz: 'Nothing Beyond, Everything After' is basically about what you do with the time that you have on this earth. Not to worry about the future, but to make an impact on the present. The whole album has this idea running in and out of the songs. When I went travelling in February 2012, I'd left Pariso to do other things. But, once I went away, I soon realised how much I missed the band, these people I'd been playing shows with were now my brothers and I missed them and playing live. I'd been sent an email from our drummer Alastair about how he was thinking of leaving the band, as he felt it'd changed since I left. This then made me feel more nostalgic and sad, I then emailed the band saying I wanted to come back and rejoin the band and record the new album. So, whilst I was travelling, I was sent countless demos of tracks and I began writing and expressing what travelling was and how it felt for me. I wanted to keep continuity between this release and our 7″. I think it tackles a lot of subjects that were slightly similar to that release. I've often had harsh critics on lyrical content of our songs, but I'm dyslexic so unfortunately that's a problem for me. Sorry.
Alex: When Mazz left, we weren't thinking about an album at all. We had a couple of new songs, but we thought we had to get a new vocalist and just get back up to speed to start with. Various factors led to him wanting to come back, and as soon as we knew roughly when he would be coming back then we started writing with an album as the goal/aim in mind. In line with the theme of travel/journeying on this record, what you hear on the album is almost in the order we wrote it. It just seemed to work best this way – we almost wrote according to how we wanted the album to be structured, with a distinct 'A' and 'B' side to the vinyl, with songs closing and opening each side especially.
Stuart: At the time Mazz left for Australia, I decided to end a career that was making me miserable to search for work in the music industry. Three months later, I'd worked the notice of my old job and started a new job managing a recording and rehearsal studios, which we were able to use for free. Aside from ending my increasing un-happiness, the new job enabled us to write the album. The whole writing period and the finished product will forever remind me that personal happiness is more important than anything – especially money – and that the choices I make should always have that in mind. This album would probably have taken twice as long and sound entirely different if I wasn't fortunate enough to get the job at the studios. More than anything, practicing in the main room made us feel like Metallica.
01.) Open Waters
Mazz: This for me is the beginning and ending of my travels. It talks about how when I returned I noticed nothing from my past life had changed, yet I had to reimmerse myself into something I was unfamiliar and uncomfortable with. But, I did have a new sense of clarity and I had to promise myself not to waste it. This song I found the hardest to write for, I knew it had to be an introduction song. I hated this song from the moment I first heard it until the day we recorded it. With that in mind, it made it harder to write lyrics to. Even up to the point where I was writing lyrics in the studio. 7-8 drafts of lyrics can be found in and around my room and travel journal. "Experience is the name we give our mistakes" is taken from Oscar Wilde.
Alex: Again, coincidentally, this was the first and last song written for the album. The end of this song changed so many times and never felt right until I came up with the sort of 'glam' riff towards the end of the song, and then it just seemed to click. So, yeah, this was one of the first songs written for the album, but the last to be finished, with the last riff I wrote for the record. Musically, this song was always supposed to be completely over-the-top and be all over the shop, coherently I hope, to kick things off.
Stuart: I love the way this song feels like a punch between the eyes to open the record. The original ending to this song was some pretty relentless broken grinding riff that I absolutely loved, and we probably stuck at trying (and never quite succeeding) to get it right for as long as we did because I was so set on making it work. The classic/glam metal ending you hear on the record felt stupid at first, but all it took was for all of us to play it through once and start laughing at the end to realise it was right.
02.) Defence Wounds
Mazz: This track talks about how in a sense everything we do, in the grand scheme of things, is slightly purposeless. All the things I can ever achieve and stories I can gain don't feel like much. I'm having a slight dig at people who don't appreciate what it's like to struggle for what they want to achieve and who get it given to them on a plate. I wrote this song in Melbourne, Australia and at this point of my travels I was particularly low. I was alone and in a very unhappy environment, I kept seeing arrogance and selfishness around me. Why did I have to struggle so much to have the same opportunities as someone who was given it by greed? Jamie Jasta was an inspiration on the chorus.
Alex: This is one of my favourites and was the first song we wrote for the record – we played it live, once, in February 2011 (at a show when we literally had no vocalist), to give you an idea. I like the way it keeps coming back to the big chuggy chorus riff. That was kind of inspired by I Declare War, and I love the brutal 'shoegazey' bit. I guess that was our nod to Tombs in a way.
Stuart: Conversely to what Alex has said, I found this one more of a 'grower' for me rather than an instant favourite. I didn't feel like it was very 'us' when we'd written it early on, but the more of the album we wrote, the more I learnt to embrace my previous reservations and run with some of the ideas. This still isn't one of my favourites, but it's great fun to play and it's another one where Alastair's drumming just seems next level.
03.) Body Language
Mazz: I first started writing this song a month into my travelling. I wanted to get across how fantastic it felt to work for something for so long and gain something out of it. There were very hard parts of travelling, some of which made me feel I should just go back home. But I'm glad I stuck it out as long as I did. I thought about my life back home. The only time I could vent was in Pariso, with the lyrics I'd written, "And now I've gained the clarity I stand on a lonely stage, I'm asked to open myself up and to spill my guts". When thinking about that, nothing terrified me more than coming back home with nothing to go to. Infact, departing Australia I found more terrifying then travelling there initially. We were absolutely stoked to find out Jon Parkin (Gaza) would be doing a guest spot for this song. I sent him an email telling him what the song is about, he wrote the last few lines to the song and they sounded fantastic.
Alex: It's interesting that Mazz conveys positivity and terror in the same song here, especially as it starts off almost positive musically before becoming probably the darkest song on the record. To me, this is the strangest song on the record, and I'm still not sure if I play the beginning section right. Stuart wrote the first two alternating riffs, I wrote the breakdown (where I was trying to rip-off Harms Way but it came out sounding like something else entirely) and the final third of the song, which we refer to as the 'black metal' section, was very much a collaborative effort between us all. I couldn't be happier to have one of my favourite vocalists from one of my favourite bands on the culmination of this song.
Stuart: This song was a wholly collaborative effort as far as song writing goes. Alex and I seem to have a habit of writing riffs that, while they seem comfortable and natural to play to the person who wrote it, often the other one of us finds awkward. The opening of this song I wrote was that way for Alex and the end that he wrote was that way for me. I really think the effort was worth it on this one and having Jon guest on the end I couldn't be happier with the way it turned out.
04.) Scocciatura
Mazz: This song is about the 'to-and-fro' of how nostalgic you feel about home but remembering that there was a reason why you moved on. This song then came (in bursts throughout my travels) eg. When I was working in Melbourne, I turned 25. I was still alone, didn't know anyone. I spent my birthday alone, working. This, as shallow as this might sound, made me a little upset, I told my boss at the time about it and about how I missed home and he told me "As long as you keep your family in your heart, you'll have the strength to carry through". Scocciatura is Italian for 'nuisance'.
Alex: I didn't really like this song until we recorded it and now it's one of my favourites. Ha. We wrote the whole album in long weekend sessions at Stuart's rehearsal/recording space that he manages, which was a godsend in getting it all written. I had the opening riff of this song kicking around for ages, but didn't know what to do with it, so we pushed it through into a song during these writing sessions. It's essentially the same riff/notes/pattern repeated in various ways throughout the song. Now it's recorded and done, it's intensely satisfying to play I feel. Due to the drums at the start, some people think the start sounds like Sepultura or Soulfly. I'm down with that. The title is also a small nod to this fact in terms of how the word sounds.
Stuart: This is another song where both Alex and I had riffs we'd written that we couldn't seem to do anything with. I'd written 90% of a song around the third riff in the middle of the song, but it just wasn't really a Pariso song. When we eventually put together our ideas into what's on the record it came together, but it was only after it was recorded that this song really clicked for me. It's one of my favourite songs to play live now.
05.) Native Wolves
Mazz: Before leaving for my travels, I used to write short stories. This song is based on a short story I wrote called 'The Sun Only Sets In Your Town'. The song tells the story of a friend of mine who found that everything she was told to achieve by everyone around her was something she didn't want. When I was living in Melbourne, I was with an Irish girl (I forget her name). We worked together and she was a very confident young lady. I remember we went for a drink and I realised how insecure she really was. I found it interesting and also slightly disturbing how alcohol had taken over many people's lives over there, how it was a crutch for confidence and how it can sometimes reveal someone's greatest insecurities. We asked Jamie Frye to do a spot on the song, which turned out better than I could ever expect. The back and forth of the last part of the song really makes it sound intense. His voice is just incredible.
Alex: Basically, I thought we needed a short song as a nod to our past, and I also wanted to do a really concise sort of traditional sounding hardcore song. This is it, which suits Jamie perfectly and he really is the vocal icing and cherry on this song.
Stuart: I can't listen to this song without clenching my fist when Jamie comes in on vocals at the end. It makes me want to mosh hard… I'm probably too old for that now though, but we'll see what happens live.
06.) Leeches
Mazz: Leeches talks about dependency. I'm a very hard-headed individual. I don't like asking for things, it makes me feel weak and insecure. This song is about having to deal with these feelings and saying that this isn't about dependency, but helping each other out. The last line "I'm what time and circumstance have made me" was taken from Boardwalk Empire. I found the line to be very honest and endearing. This is my favourite song on the album.
Alex: This is another one that was largely put together in the rehearsal room, consisting of riffs of mine and stuff we'd wrote on the spot. It's again just mostly me wanting to do hardcore, although Jamie helped write/play the chorus, which has come out almost catchy I think. Oh, and obviously Alastair's drumming has grinded/blasted the shit out of the song with his distinctive style, which is intrinsic to our sound. The chug riff is due to me and Alastair listening to Prowler/Brujeria/Subvert I think. Stuart wrote the closing 'collapsing' riff, that you could argue is a nod to Gaza.
Stuart: The closing riff is unashamedly a nod to Gaza. It's one that again sat around for ages and finally found its way into a song that came together in the rehearsal room.
07.) The Huntsman
Mazz: The title is a metaphor for people who attack your insecurities, intentionally, passively and cold-heartedly. Travelling was a hard step to take, but I found people at home didn't see it that way. Some people saw it as an excuse to forget about, or to coast through, life. They found it easy to tell me how I went wrong, but they themselves would never make that first step to doing something different with their own lives. In a way, I'm trying to express to these people how and why I moved on.
Alex: I wrote this song start-to-finish in thirty minutes with a massive hangover. I never play guitar hungover for obvious reasons, but this one morning I just forced myself to do so to see what would happen… and this song is what happened. It was very much one of those situations where it felt like the song wrote itself and I was just a conduit from a higher power or something ridiculous. Musically, I just had Converge and Slayer in my head – aka the best – but with our own sound/tuning/stamp all over it.
08.) Lonely Battle
Mazz: I think this song for me means the most lyrically. When I first arrived in Australia, the first person I ever met was a guy called Che Montgomery, he lived in Torquay. He showed me the ropes of travelling around Australia; he had plans to travel South America after doing 3 years in Australia and New Zealand. He asked me what I wanted to get out of travelling; I told him that I didn't know. He replied by saying that "Not knowing your plans sometimes are the best plans you can have. Because the people you will meet travelling will become close to your heart and will determine your adventure". I saw him a couple of times while I was in Australia and we would often have a great time. He asked me if I wanted to do a drive up to Broome from Perth at some point. I declined because I needed to do my fruit picking days to gain my 2nd year visa. A few months later I found out he did that drive alone, he crashed and died on the way to Broome in the outback. The news hit me really hard; he was someone who determined my whole life. This song is dedicated to his life and my friendship with him. Thom Denson adds so much to this song I think vocally, for a song like this he was the only person who could do it justice. His voice adds so much emotional context to anything, it was just a perfect match.
Alex: Stuart wrote this song, all I did was simplify the chorus from what it was originally and write the chords for the chorus. Despite it sounding relatively straight-forward, the details in the structure made this the hardest song to put together and learn.
Stuart: I find myself writing mostly shoegazey riffs or riffs that become increasingly (subtly) complex the more I play them at home. Whilst not technical, they often get to the point that there's almost no repetition and the others almost always (and quite rightly) simplify what I've written or we end up shelving it. This is the most complete song I brought to the table and had very little adjustment to the structure. It was the most challenging for all of us to learn because of the subtleties, but ironically it's probably the most straight-forward to listen to with clear verses and choruses. I love what Thom adds to the track, and every time I remind myself what the lyrics are about I feel like I well up.
09.) Nothing Beyond, Everything After
Mazz: This song is about nights I would have alone in Australia. Thinking of all the things I'd done and still feeling alone. I thought to myself "okay, if I do certain things in my life I won't be unhappy anymore, I will be fulfilled and content". This didn't happen and this feeling to this day still terrifies me, that no matter what I do I'm still going to be unhappy and alone in the end. No matter how many people I meet, none of them will help me feel fulfilled. Because none of us really know what we want to do in our lives. I don't, and I was told from an early age that people need to have a purpose. I don't and that both excites and scares me. I really like this song a lot; the background noises were gained from recording audio from late at night outside Alex and Stuart's house and hearing the foxes crying in the distance. I particularly love this song, I was hesitant because I'd never sung before but I think it turned out quite well.
Alex: I wanted us to have an acoustic song on the record because I thought it would be the last thing anyone would expect of us. Alastair, Pete and myself worked on a loud/heavy version of this song once, but it wasn't clicking. Then, at a later practice, me and Stuart arrived early and sat down with a couple of acoustic guitars to kill time, and the basic arrangement of this song was born. Stuart then took this song on as his baby, recorded it at his place, played it all and added all the details such as the fox noises, piano etc.
Stuart: I took the view that the only way we could pull off an acoustic track as Pariso would be to make it as dark and droney as I could without going OTT on the production and instrumentation. The studio I run has a grand piano, so I demoed a couple of the riffs myself and just sat at the low end of the piano to work out some droning undertones, then eventually worked with Joe Watson (Apologies, I Have None drummer) to record all the parts over a couple of different days. Reading what Mazz wrote above is the first time I've really known what this song is really about, and so much of that really resonates with me personally. Some people will hate this track and wonder why we bothered, but I'm happy we tried to push ourselves and I'm pleased with the outcome.
10.) Unmitigated Sky
Mazz: This song is about friendship. It's a dedication to my friends who have stuck with me through everything. Sometimes I feel I don't show enough appreciation for them. I can often be selfish and crass, I worry a lot about my future and I think I dwell too much on it. In this song, I confess that I can be a hindrance to people who know me. How we have to live with our insecurities, the fact that when I look in the mirror I don't like what I see. This song was the last song written for the album. Again, it took various drafts to finish this song lyrically.
Alex: Despite it nearly all being heavy and fast, I thought we needed a rager that was even heavier and faster. Converge, Found Dead Hanging and In Disgust were musical reference points for me on this one. This was another one I brought to practice almost fully formed, that I wrote relatively quickly.
Stuart: This song's insane. I remember just thinking "what the fuck?!" …I still think "what the fuck?!". It's one that's great to play live, but I feel may pass most people by as it's so short and insane. Lewis Johns (who mastered the record) told me the other day that this was his favourite song on the record, which was a real surprise for me. Alastair's drumming on this song blows my mind. I remember him being in the studio when we recorded it and asking to do another take (after already doing it several times and getting the perfect recording), because he wanted to try something. What he tried was even more insane that what we'd rehearsed and ended up on the record. I still don't know how he does it.
11.) Omerta
Mazz: This song is about being an introvert, faith and how I don't have any. I'm not one to bad mouth religion. As far as I see it, each to their own, it doesn't concern me. But, this song is about how I lost that faith at an early age. This song also tackles people who are often over opinionated and how they need to show this off. I don't often give my opinion on things as I feel that if people want it, they will ask for it. Also, I think people often feel their opinions need to be heard even though they might know nothing about the subject and this infuriates me. I don't feel I'm negative or misanthropic. I consider myself a realist.
Alex: This song was written at a similar time to 'The Huntsman', and I think it shows in that they could be brother/sister songs to one another. I was inspired to write the beginning of this song after listening to Masakari and loving their crusty energy and basically wanting a piece of that. Aside from that, I think there are unintentional nods to High On Fire and Hang The Bastard in this one.
Stuart: The penultimate riff on this song just made me think of Hang The Bastard and was screaming out for a solo. Neither Alex nor I profess to be able to pull off any Kerry King solos, so I put together the lead line which was good fun recording and harmonising to hell. It feels for me like the first heavy song on the album where the pace slows in the middle of a song with real purpose.
12.) Officeress
Mazz: Like the first song is an introduction of sorts to the album, 'Officeress' is the conclusion of the album. It says, in a way, that I still have a lot to learn and that often a person's mindset can still be the same even after experiences. It's how I felt before and after travelling. In the song, I'm speaking to someone retrospectively, saying to someone I care about the fact that we all have our own faults and insecurities, but in a way everything will be okay in the end. You shouldn't worry too much about the future, because it's obviously uncertain. No matter how I feel about my own future and myself, it won't achieve anything. Embrace life for what it is: an uncertainty. I wanted to leave the album on a positive note really.
Alex: I suppose it can be viewed as a cliché to end on an 'epic' song, but I thought it would be a real challenge for us to do a longer song without it being boring. Hopefully we achieved that. This really sort of taps into mine and Stuart's love for Gaza, Mare and doomy/slow metal. The ending of this song is really uplifting to me, really emotional and makes the hairs stand up on the back of my neck – mostly due to what Mazz achieved vocally. I really like this song a lot and I'm glad we did it. I think it leaves us open musically and lyrically for the future.
Stuart: Like the acoustic track, this was a challenge we set ourselves once we realised we were writing an album. Subconsciously, it was also to prove to people that we can actually write lengthy songs without losing our identity. The Kerouac split seems to have given lots of people the impression we couldn't do that, but this is literally twenty times longer than most of the songs on that split and I personally think it's at least as good.
'Nothing Beyond, Everything After' is out now, and can be purchased from the Tangled Talk Records webstore (here). You can also read our review of the album here.
You can follow the band on Facebook, , or head over to their official website by clicking here.
Founder & Editor for DEAD PRESS! | Atheist and antitheist. | Judge of the quick & the dead since 1989.