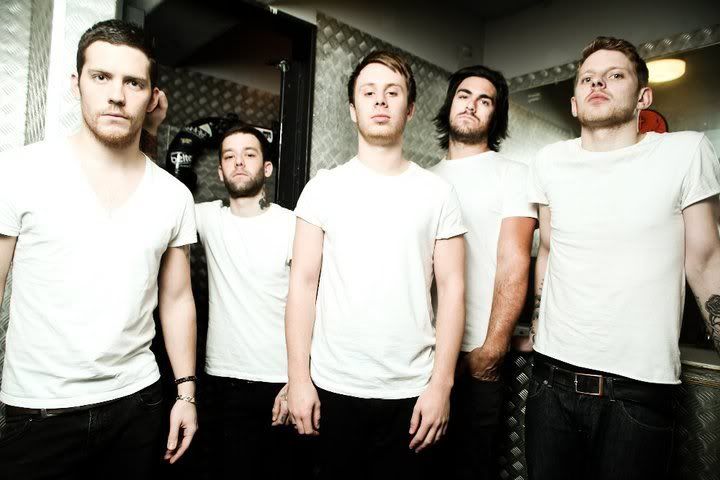 As the tour goes on, so does the carnage. The hardcore boys in POLAR. are well into their first ever headline tour now, this time hitting up Margate, Rotherham and Ipswich on their travels. The band fill us in on the three dates of the tour with their goings on, which this time includes the outfit chowing down on delicacies like battered pizza, a night out in Derby due to the Rotherham date needing to be unavoidably cancelled, and the band members deciding to title themselves the "Euro Hunks":
---
MARGATE, Westcoast Bar (30/06/2011)
This show consisted of circle pits 'round the bar and walls of death with people on each other's shoulders, seriously. This was one of the quieter shows of the tour so far, however, I think it also had the highest number of women! This is one thing we said when we started the band, the fact that we wanted more girls at our shows. Girls bring the guys you see, and if girls buy the merch then boys buy the merch, besides the fact that it gives us all something to look at.
This show did kick off as all of the shows in this tour have. You can't visit a seaside town and not experience its delights; ice-cream, beers, cigarettes and local delicacies, such as battered pizza… come on, we had to! A great show of face from Oz (Feed The Rhino) and Tim (Hildamay) meant this night would never disappoint on the jokes front, but to be fair, that's all that this tour has been for us so far. Absolute jokes.
---
ROTHERHAM, Charter Arms (01/07/2011)
This show was unfortunately cancelled due to a firestorm, and was instead replaced by a hectic night on the tiles in Derby. MOSH club had never seen anything like this, drinks were literally flying across the air between us, namely Newcastle Brown Ale with it being a new favourite for some of us (namely Fab & Woody). A resident club photographer demanded some shots of the band, duly obliged drinks in hand. What followed next was a mess. A POLAR. van party followed the incidents of which include, a skateboard race between Rick and Nick (no one won, they both wiped each other out), champagne guzzling, tunes, the POLAR. tech pulling a ropey piece, pink puking and just general messiness.
---
IPSWICH, The Grinning Rat (02/07/2011)
This show was packed! So many kids lined the venue, some good bands on tonight enjoyed by the swelling crowd. This is a Saturday night, and POLAR. do not go a Saturday night without drinking profusely! This Saturday was no different; rum, beer, Dr. Pepper… this all consumed before the show.
We play to an extremely violent crowd, something that's of a more regular occurrence nowadays. This was the most enjoyable show of the tour so far, something we couldn't have imagined prior to the show. Travelling that night towards Manchester, we stop at a lay-by service station to continue drinking before crashing out, the most outrageous conversation soon followed. Basically during this tour, Woody and Fab bought tight short shorts and called themselves "Euro Boys", this then turned into the band being known as "Euro Hunks", and after all this we then named all the members of the band with "Euro Hunk" titles:
Woody – Hitler Hunk
Fab – Super Hunk
Max – Tom Hunk
Rick – Grande Hunk
Nick – Pikey Hunk
Will (Tech) – The Incredible Hunk
Not funny to anyone else, however, this was the funniest conversation, obviously aided by numerous substances. This was a great night of the tour. POLAR. signing out.