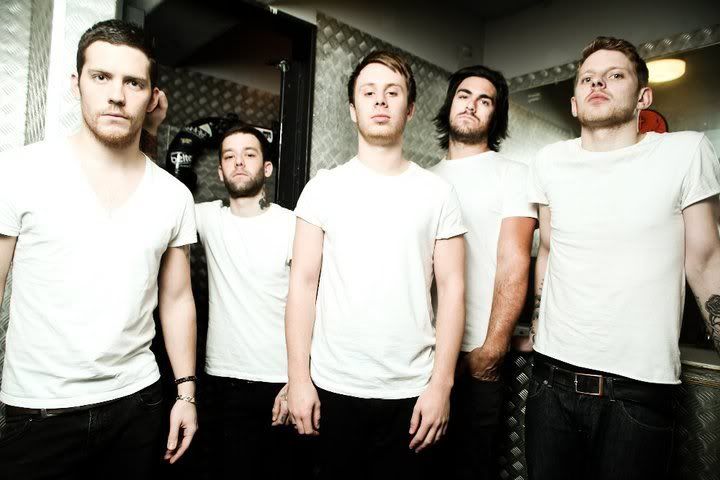 Properly into their first ever headline UK tour, young hardcore outfit POLAR. are beginning to finally affirm themselves as a solid band before their debut full-length comes into the public eye. With their stops over at Hastings and Brighton, the band have to tackle extreme heat whilst performing, explain how they're feeling on this tour, and meeting a local weirdo:
---
HASTINGS, The Carlisle (28/06/2011)
The Carlisle in Brighton is officially one of the hottest venues we've ever played in, a beat down old venue takes us right back to the early days of DIY basement shows. The set-up here is simple no mics on cabs or drums, only a small basic PA that barely takes the brute force we are about to smash out. With that in mind, it puts us right back to where we feel more than familiar: basically in people's faces. There are a good amount of kids at this show, the first of our headline tour which fills the band with the confidence that this is going to be another hot, sweaty and violent affair. It's a strange feeling for the lads if we're honest, being the headliners as basically all the aspects of the show are designed with us in mind and to fit around our schedule. This is to be the pattern for the next nine days. This tour has found the band in high spirits, we've loved every minute, it's been too jokes. On stage it's pure violence as usual; the kids kicked off, most without t-shirts it was that hot. This aspect of the show gives us another course for discussion, that these kids are actually coming out to see our band, not a headline act that we're supporting. It gives us a good barometer to see how well our band is actually received out there.
The POLAR. party takes us out into the town of Hastings, itself where we stumble across a late night ba. We walk in to find a good friend of ours who actually works and manages the place! What are the odds? Surprise dons all our faces, needless to say that endless beers shots and cocktails were had on the house. POLAR. like these sorts of nights, these are the nights that support acts opt out of, the type that have made our name as drinkers, the type that tours are made of. We also met the local weirdo to round off a positive opening headline night.
---
BRIGHTON, The Hydrant (29/06/2011)
The POLAR. express rolls up to a sun drenched Brighton, a venue we have played not so long ago means we are expecting a bit of a crowd tonight. This venue is different gear from the previous night, coming with a sound man for a start. The sound here is amazing, it sounds huge tonight, just aswell as the crowd are starting to swell. The band's vibe continues to be the most high spirited I think we've ever been, so this is fast turning into the most enjoyable tour and it's coming across live too. After just a couple of shows we are playing like clockwork, expected from a band that enjoys the road as much as the most hardened touring band.
By the time we go on stage the place is filled out, including some close friends of ours. This is probably our best performance so far, probably much to do with the fact the sound man has done a great job at making us sound big in the game. This tour is picking up pace, and we are loving every minute of it!