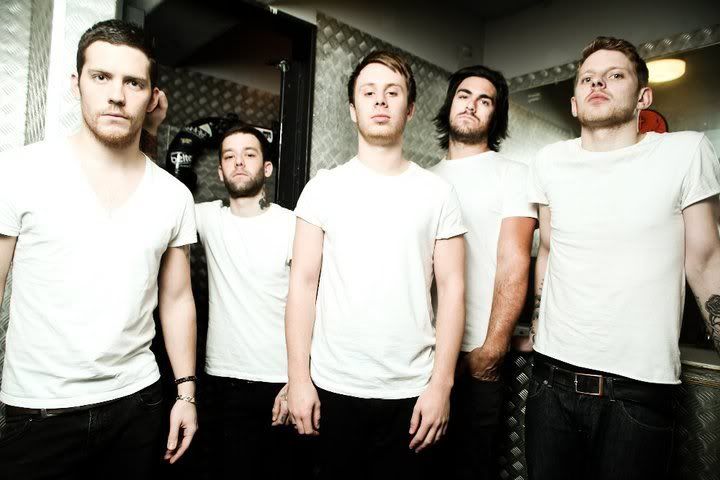 Heading out onto their first headline UK tour, A Wolf At Your Door Records signing hardcore quintet POLAR. are set to be an up-and-coming big name in the scene, but before setting out on the road, the band make an appearance at this year's Ghostfest and a reunion show for Fastlane with Deaf Havana. This is the start of their exclusive tour diary with us, and their accounts of the aforementioned shows:
---
GUILDFORD, Mutiny Club (25/06/2011)
Tonight starts with a buzz in the air, as this is no ordinary show. This is local heroes Fastlane's reunion show, being their first performance in five years. At first sight the queue stretches down the road such is the talk of this show in Guildford. This show was always going to big a big one. Deaf Havana open up proceedings to a rammed out Mutiny, and to great response. The boys looked to be enjoying it too. The vibe is a real Summer night out with a lot of your best pals, sun, good music and loads of beer!
The room is maxed out when we take to the stage, I say stage, but I actually mean within the crowd mingling and getting rowdy with our fans, usual vibe for us as we tend to opt out of stages wherever possible. This show KICKED OFF!!! We couldn't really think of a better way to start the tour than the way this night panned out. Fastlane were too good at banging out the old hits. Party time after this with all the bands and fans, and the positive lively vibe continues into the night. Passed out in the van outside the venue around 4.30am, the inside of the van had bodies strewn everywhere, basically wherever you could lay your head and body to lay. This seems to be a regular occurance at the POLAR. parties, we just don't know when to stop.
At 7.30AM we're back on the road to Ghostfest 2011. Needless to say, not a lot of sleep was had, you do the math…
---
LEEDS, Ghostfest (26/06/2011)
A loud bang of the door opening at 7:30AM started our road to Ghostfest when Max decided to take duty as the alarm clock as usual. Bleary eyes, we start our long five hour long drive to Leeds, pretty much running on fumes. Standard POLAR. behaviour followed for the first three hours of banter and laughter, and things too bad to put on paper. We stop just outside of Stafford to pick up label manager and fellow sessionist Ian Dickinson to complete the traveling party and beginning the final leg of our journey.
We arrive in a very hot and sunny Leeds to a packed venue of eagerly awaiting fans to begin this year's Ghostfest Sunday, waiting not so patiently for the likes of Heart In Hand, More Than Life, TRC and Suicide Silence just to reel off a couple. The clock shortly arrives at 4:00PM when we are taking to a stage of a quickly filling room. After a small intro, we break straight into a blister 30 minutes of heat, circle pits and walls of death blurred by feedback and claps from the audience, and in a flash its over. Great crowd response and cheers ends our set at Ghostfest, leaving us to begin getting ready to start out headline dates on Tuesday.