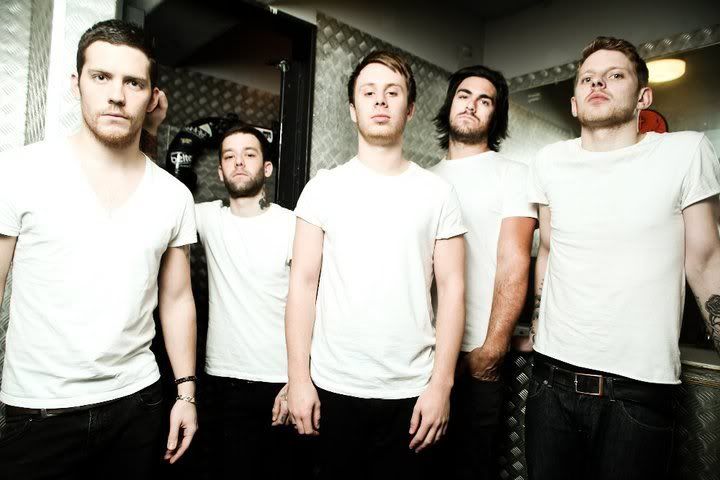 Coming up to the final few shows of their tour, POLAR. are making sure that their first ever headline tour across the UK is one they're not going to forget. Keeping their entries for an exclusive tour diary for us, the boys fill us in on their happenings at their Manchester, Edinburghand Telford shows along with a alcohol filled day off in the Lake District, ensuring the on-road carnage doesn't stop at any moment:
---
MANCHESTER, Satan's Hollow (03/07/2011)
The most over the top venue on this tour, it looked the inside of the vampire ride at Chessington! This venue has a 10ft Devil towering one of the bars and the stage is located in the middle of the room, allowing the crowd to get around the band and see them from all angles. This is a first for us.
Not the biggest crowd tonight, however, they definitely give as good as they get. We made the decision to play a revised set different from all other dates on this tour; we opted to play the entire EP front to back, something the crowd seemed to love. A short drive out of town led us to the perfect spot for our latest van party. These are becoming something of legend and a perfect way for the lads to reminisce the nights activities, and round off another successful night on this Summer tour.
---
EDINBURGH, Banshee's Labyrinth (04/07/2011)
This was another interesting venue, officially the most haunted venue in Scotland. This place was ridiculous, it was a maze, it had a cinema, pole dancing and chambers. We really did get lost in this place. The scene of the performance was a tiny bar in the basement that was filled, not needing too many in there to make this an intimate and aggressive affair.
But, this all nearly didn't happen! Literally as we were taking to the stage, we got pulled aside and informed that we could not play due to the venue not being payed for and that the promoter had done a runner! There are all too many of these rogue "promoters" in the scene right now, who literally don't know what they're doing. Eventually everything gets sorted out, and we take to the stage even more bitter and violent than usual. After three songs, even the backing vocal mi's were not turned on to our dismay, a violent barrage of abuse fired itself at the sound man from members of the band… needless to say, the mics were swiftly turned up.
A mass party commenced in the venue at the top bar, a good chance for fellow bands on this tour drink and really push the limits. The entire support band and bar staff were thrown into a frenzy when POLAR. bring out a picture that was taken earlier that night in one of the many chambers this venue has for their only to be what appears like a small girl in ghost form stood next to them, bearing in mind the venue we are in this could be very feasible. People got spooked with this latest prank, and we couldn't have planned it better. A French girl, a POLAR. fan barmaid and a mile long skate race along the "Royal Mile" between Rick & Nick and the night was done. Thanks Scotland, it was a blast!
---
THE LAKE DISTRICT, Day off (05/07/2011)
48 beers, a bottle of rum, too much smoke and a backdrop that would grace any adventure movie. The Lake District provided us with a much needed bit of time off. In true POLAR. fashion, the day off was graced with alcohol, smokes and side splitting laughter. We found the perfect beach to "hunk out" and basically had a party that even we were astounded with. Tunes on the beach at 3:00AM washed down with neat Sailor Jerry's meant we eventually stumbled back to find the van thankfully still in one piece.
---
TELFORD, The Haygate (06/07/2011)
This was a last minute re-arranged show due to yet another "promoter" that decided he had enough and bailed. This happened a day before the show. Thanks to some quick thinking and effort from certain people, this show got moved and made into an all ages show. We were fearing the worst as this could have been a dead show, and it wouldn't have surprised us if it had.
What we saw when we turned up was totally the opposite! There were kids already queuing up outside! What was deemed to be the worst show turned out to be the best turn-out of the whole tour so far! Kids and more kids showed, car after car of kids bowled up, the walls were lined with girls and boys wearing their favourite band shirts and even a show of face from our label owner Kevin Horak made it a night to remember.
This show was nuts, many of whom we recognised from our appearance at Ghostfest. The customary van party ensued after the show, and we were joined by Fathoms this time. More rum, more beer (including our new found favourite tipple, Newcastle Brown Ale). Money started to fly and bets started to follow, a third nipple was licked and kissed on a naked man's body to earn a fiver! This was disturbing to say the least, however, it was filmed by multiple cameras so, the evidence does exist somewhere. Keep your eyes peeled for it… it's worth it.
Founder & Editor for DEAD PRESS! | Atheist and antitheist. | Judge of the quick & the dead since 1989.