This year's Slam Dunk Festival has decided to mould and create a notably heavier line-up than it has ever done before, and one of the more heavier offering's on the 2012 bill is The Word Alive, a band who've recently declared news of their new album, titled 'Life Cycles'. We got a hold of frontman Tyler "Telle" Smith to talk about their festival appearance later this month, what to expect from the new album and more: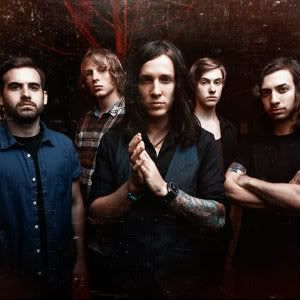 DP!: How are you guys looking forward to playing this year's Slam Dunk Festival?
Tyler: We've heard that Slam Dunk Festival is one of the most successful ones in the world, and we couldn't be more excited to be a part of it for the first of hopefully many times to come.
DP!: This year has began catering towards more of a heavier audience with the line-up, do you think that's going to affect the vibe of the festival?
Tyler: If it's anything like how the Vans Warped Tour was in the States, which we also did last year, I think it will be an amazing thing. There's just so much passion in heavy music, passion that I hope gets displayed for the world very soon.
DP!: You've been over to the UK a couple of times now, how would you compare your shows over here to those back over in the US?
Tyler: London in particular has been absolutely mind blowing each time, and is actually one of our favourite cities to play in the world. We're hoping that by playing Slam Dunk, it will get our name out there to many new kids so that ALL of the UK dates we play in the future will be just as lively.
DP!: You've recently announce news of your new album, 'Life Cycles'. How is the new album a step up from 'Deceiver'?
Tyler: I truly believe that it is in every way. There's more passion and conviction in the vocals and lyrics, the guitar work and song writing as a whole are at the highest level our band has reached, our rhythm section has truly outdone itself this time around as well. We've made the best record we could have at this stage in our careers and we can't wait to share it with the world.
DP!: Will we be hearing any new tracks in your Slam Dunk set?
Tyler: Yes, we'll be playing 'Wishmaster' off of the new album. It's had a big crowd reaction thus far on tour, so we hope that trend continues.
DP!: There's an awful lot of different bands on this year's line-up. Why should people come and catch your set?
Tyler: We don't suck, haha. We put a lot of effort into our live show. Most bands now seem to focus more on their image than on their playing ability. We always put our live show above all else. Come and see for yourselves!
DP!: Will you be letting yourself go at the after party once all the bands have finished up?
Tyler: I'm sure our band will be mingling about. There are a lot of good friends playing the festival as well.
DP!: What do you guys have planned after Slam Dunk is over?
Tyler: We continue on our first European headlining tour with For The Fallen Dreams, I See Stars and Upon A Burning Body. After that, we head home briefly before playing Japan and some US shows leading up to our album release. We then have the All-Stars Tour for the summer and are finalizing fall plans soon. We'll definitely be back overseas again this year though.
SET TIME: 4:55-5:25 (North – Leeds) / 4:40-5:10 (South – Hatfield) – Honour Over Glory stage
RIYL: blessthefall / Of Mice & Men / Motionless In White
LISTEN TO: The Hounds Of Anubis / 2012 (below) / Like Father Like Son