Though perhaps not in the top contenders of the genre, Say Anything are still a rather unique offering in terms of what pop-punk has to offer today. Though latest full-length 'Anarchy, My Dear' was leaked more than a month ahead of its release date, the album has still received some notable success. We had a chat with frontman Max Bemis about the record, how they're looking forward to their set at Slam Dunk Festival and more: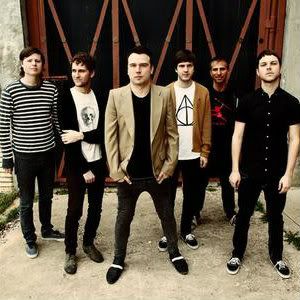 DP!: How are you guys looking forward to playing this year's Slam Dunk Festival?
Max: So very much. The UK is our international destination of choice, but it's been a while since we've been able to come entertain y'all.
DP!: This year has began catering towards more of a heavier audience with the line-up, do you think that's going to affect the vibe of the festival?
Max: I think it's great! It leaves room for bands like ours to add some sonic diversity to the proceedings and it reminds us punk bands that we need to actually rock.
DP!: You released your latest album 'Anarchy, My Dear' earlier this year. How've you been finding the media and the fans' reactions to it?
Max: Amazing, so far at least. I feel like the record is cementing the fact that our band is here to stay and that was one of the main goals while making it.
DP!: There's an awful lot of different bands on this year's line-up. Why should people come and catch your set?
Max: We're most certainly going to be the most weird, neurotic and awkward display involved. So, if you're sick of bravado but love over the top indie rock, I'd say come and check us out.
DP!: Will you be letting yourself go at the after party once all the bands have finished up?
Max: I will be reading comic books in my bunk.
DP!: What do you guys have planned after Slam Dunk is over?
Max: Australia.
SET TIME: 4:35-5:20 (North – Leeds) / 4:50-5:35 (South – Hatfield) – Atticus/Jagermeister stage
RIYL: Motion City Soundtrack / The Wonder Years / Man Overboard
LISTEN TO: Alive With The Glory Of Love (below) / Burning A Miracle / Wow, I Can Get Sexual Too