Yorkshire terriers Marmozets are living proof that you age doens't really matter when it comes to rocking the fuck out. Easily one of, if not the youngest band to be performing at this year's Slam Dunk Festival, the band's catalogue also composes of some of the most technical soundwaves the festival will be seeing this year too. We spoke with guitarist Sam Macintyre about the festival set, how he would class their genre and style, why you should catch their set and more: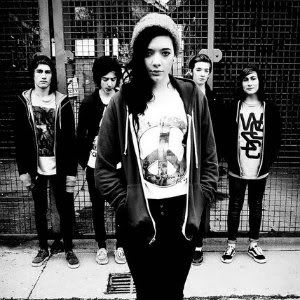 DP!: How are you guys looking forward to playing this year's Slam Dunk Festival?
Sam: We're all dead excited, I think mostly because one of the dates is basically a home town show for us and there are so many awesome bands playing. We can't wait.
DP!: This year has begun catering towards more of a heavier audience with the line-up, do you think that's going to affect the vibe of the festival?
Sam: Not at all. Most of the people who go love those types of bands, and to be honest if they don't it's their loss. As a band, we appreciate and love all kinds of heavy to mellower music, and I think a lot of people who go to Slam Dunk do too.
DP!: After playing Hevy festival last year and going on tours with big guns like Four Year Strong and The Used, do you think you guys have are more prepared this year to take on Slam Dunk and Hevy again in August?
Sam: Yeah, I guess so. It's always good to be prepared for everything you do, but performance-wise I think we are more prepared and a whole lot tighter as a band. We always play every show like it's our last, and we've had about 5 or 6 years of playing live together which helps.
DP!: Your music is very technical, bringing in irregular time signatures and complex guitar work. How would you best describe your style and sound to someone who's completely oblivious to you guys?
Sam: I think we would say that we aren't rock, pop, math, rap, metal, hardcore, country, blues or gospel. We just are.
DP!: There are an awful lot of different bands on this year's line-up. Why should people come and catch your set?
Sam: YOLO
DP!: Will you be letting yourself go at the after party once all the bands have finished up?
Sam: Yes, I think we will, bearing in mind Will and Josh are both underage. But, most of us will be having a few drinks for sure. Partying is always fun.
DP!: What do you guys have planned after Slam Dunk is over?
Sam: Even more festivals! We're at Download, NASS, 2000 Trees, Hevy, Y Not and a couple more over the summer too. Then we're on the awesome Vans "Off The Wall" tour with Young Guns, Your Demise and We Are The In Crowd in October. So, if anyone misses us at Slam Dunk, go to our Facebook page (here) to find out when we're next up or down your way.
SET TIME: 3:20-3:50 (North – Leeds) / 3:20-3:50 (South – Hatfield) – Vans Off The Wall stage
RIYL: The Dillinger Escape Plan / Every Time I Die / Architects
LISTEN TO: Realise Real Eyes Real Lies (below) / The Perfect Beverage / Onemanwolfpack