The release of Every Time I Die's latest record 'Ex Lives' earlier this year marked one of the most anticipated releases that 2012 is to see. Following its release the album received many rave reviews across the board, and as such their inclusion on this year's Slam Dunk Festival is more than welcomed. Vocalist Keith Buckley spoke with us to let us know why you should make sure you check out their set, his thoughts on 'Ex Lives' and more: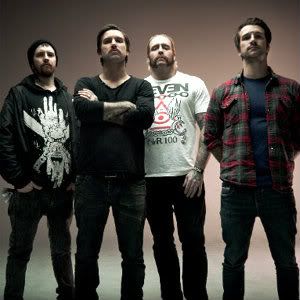 DP!: How are you guys looking forward to playing this year's Slam Dunk Festival?
Keith: We are looking forward as hard as we possibly can. It's gonna be a banger.
DP!: This year has began catering towards more of a heavier audience with the line-up, do you think that's going to affect the vibe of the festival?
Keith: I'm not sure what the vibe was like previously, so I guess I don't really know how or if it will be able to be effected. If the rest of the years had a terrible vibe and had no energy and weren't fun, then yes, this year's vibe will be far different.
DP!: You released your album 'Ex Lives' earlier this year, how've you been finding the reaction to it from both fans and from the media?
Keith: Humans all over the world seem to like it, independent of their career. When you can show up in Slovakia and people are singing along, you feel like you've done something right. It's cool.
DP!: Some people have noted that it's a bit more of a melodic record than any you've released before. Was that a conscious effort when it came to writing and recording the album?
Keith: No, it's never a conscious effort to make out albums "more" or "less" of anything. We write what we feel and if we're being honest with ourselves and paying attention to our gut feelings, what comes out is exactly what it should be. I honestly don't think this is more melodic than past releases, I think people just say that because of The Damned Things record.
DP!: There's an awful lot of different bands on this year's line-up. Why should people come and catch your set?
Keith: If you've seen us before, you know that we thrive on the energy of the crowd. The more people that are willing to take part in it, the more exciting it will be. We're gimmick free, we play loud music and we sweat a lot while we do it.
DP!: Will you be letting yourself go at the after party once all the bands have finished up?
Keith: I've been letting myself go since I was 23. I don't have to wait for bands to finish up.
DP!: What do you guys have planned after Slam Dunk is over?
Keith: We go home for about 2 weeks and then spend the summer with a shitload of friends on the Vans Warped Tour.
SET TIME: 8:35-9:25 (North – Leeds) / 8:20-9:10 (South – Hatfield) – Honour Over Glory stage
RIYL: Cancer Bats / The Chariot / letlive.
LISTEN TO: Underwater Bimbos From Outer Space (below) / No Son Of Mine / Kill The Music