It's an understatement to say 2011 was a big year for Don Broco, and already 2012 seems to be putting the level of the last 12 months achievements in the dust. Not only do the Bedford rockers have a full-length album 'Priorities' on the way, they've been on several big support tour slots, released arguably their biggest single to date which even comes with its own dance move: 'the walk'. We spoke with frontman Rob Damiani about why you should catch their set at Slam Dunk Festival this weekend, how to pull off 'the walk' in true style and more: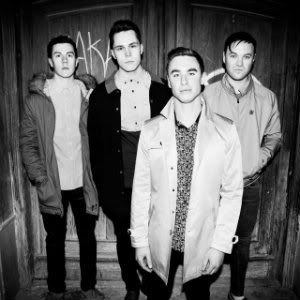 DP!: How are you guys looking forward to playing this year's Slam Dunk Festival?
Rob: We literally cannot wait. It was our favourite indoor-style festival last year without a doubt, and this year we're on a bigger stage and loads more people have heard of us. So, it should get pretty mental.
DP!: This year has began catering towards more of a heavier audience with the line-up, do you think that's going to affect the vibe of the festival?
Rob: Nahh, not really. British people generally have a great varied musical taste, so I'm sure it will be more or less the same Slam Dunk crowd going and well up for the party. We've always been fans of festivals covering as bigger range of bands as possible. I'm personally looking forward to Every Time I Die and Taking Back Sunday the most. Really hope that they don't clash.
DP!: Along with your latest single 'Priorities', you've been introducing 'the walk' dance at your live shows. How can people prepare themselves and practice before your Slam Dunk set?
Rob: Haha, I guess watch our YouTube video 'Do The Walk' (here). One viewing every three hours should do it, up to five times a day in total. Please, do not exceed maximum dose. 'Priorities' is the first song we'll be playing, so make sure you're nicely limbered up before the show. Two to four minutes of stretches and a couple of lunges and you'll be ready.
DP!: You're also releasing your debut album, also titled 'Priorities', later on this year. What can we expect from that record?
Rob: 11 brand new tracks, so nothing anyone has heard before. We got to do some pre-production this time around, so we had the chance to experiment with different instruments in the studio. Thanks to this, we've achieved a much more varied sounding bunch of songs. While some tunes are big riffers, there's a couple of tracks that really chill things out and some more acoustically driven. It also just generally sounds bigger. If you liked 'Big Fat Smile', then you'll love 'Priorities'.
DP!: There's an awful lot of different bands on this year's line-up. Why should people come and catch your set?
Rob: Looking at the line-up now and we're actually the best band on the bill, so it'd be shame to miss out. Haha. Nahh, there's so many good bands on, but luckily we don't clash with anyone too similar to us, so if you're looking for a fun show be sure to come on down. We'll also be playing a new song from the album for the first time, so you'll wanna be there to see us mess it up.
DP!: Will you be letting yourself go at the after party once all the bands have finished up?
Rob: Oh, yes. Slam Dunk throw the best after parties, so we'll definitely getting involved.
DP!: What do you guys have planned after Slam Dunk is over?
Rob: Next on the list is Download. We're playing the Saturday on the Pepsi Max stage and it's going to be great, the best day as well with Biffy Clyro and Metallica. After that, we head out on tour all over the UK with Futures in June and then hit up a load more festivals. We're doing NASS, Rhythms Of The World, Redfest, Boardmasters plus a few more that we haven't announced yet, so it will be a busy summer… and that's just how we like it.
SET TIME: 6:45-7:15 (North – Leeds) / 6:45-7:15 (South – Hatfield) – Vans Off The Wall stage
RIYL: Lower Than Atlantis / Deaf Havana / Funeral For A Friend
LISTEN TO: Priorities (below) / Beautiful Morning / Thug Workout
Founder & Editor for DEAD PRESS!