A bit of electro injected into catchy pop-punk/pop-rock is generally a good combination, and Summerlin are clear evidence of its success as a mixture. After several tours across the UK, an EP release, a recent limited edition single and being added onto the line-up for this year's Slam Dunk Festival, it seems like Summerlin are finally beginning to reap the rewards from all their efforts over the past few years. Here's what bassist Ben Jackson had to say about it all: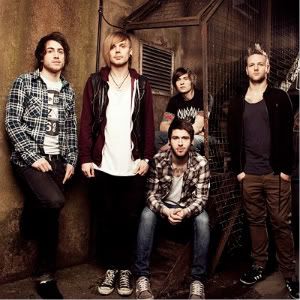 Zach: How are you guys looking forward to your set at Slam Dunk Festival this year?
Ben: We've wanted to play Slam Dunk Festival for as long as we've been a band, so as you can probably imagine, getting the call from Ben Ray (founder of Slam Dunk Ltd.) was a landmark in Summerlin's career.
Zach: On the Leeds date of the festival you're headlining the Kerrang! Introducing stage, are you nervous at all?
Ben: We were both nervous and flattered when we heard, being a band from Leeds it's the ultimate compliment. It kind of sucks that we're up against Set Your Goals and 3OH!3, but we're happy to rise to the challenge.
Zach: You also performed at Hit The Deck Festival earlier this year, how did that show go for you?
Ben: Hit The Deck was an amazing experience! Rock City is a huge venue, and to see the main room packed for us so early in the day only spurred us on to go all out.
Zach: You've recently released your limited edition single, 'Sleeps', how have the fans been reacting to that track?
Ben: We've had the best reaction to 'Sleeps', for both the track itself and the video. It was all funded by ourselves and released on our own label, Miscrient, so when people compliment what we do it makes all the hard work worth it.
Zach: For those who haven't listened to your music before, how would you best describe your sound?
Ben: Hmm, I'd say we are a high energy pop-punk/pop-rock band. Our songs are about growing up and dealing with the constant up hill battles you're faced with.
Zach: What can we expect from your set at Slam Dunk?
Ben: Well, we are debuting a new song for a start titled 'Fortune And Glory, Kid' live, and we pride ourselves on going all out and not holding anything back, so hopefully that will come across and the audience will have no option but to get involved.
Zach: Are there any other bands that you plan on catching whilst you're there?
Ben: Definitely Cartel! I've been waiting four years to see those guys, so I won't be missing them for the world. Then Lower Than Atlantis, those guys are so good. They've been ripping up my iTunes for months now.
Zach: Will you guys be chilling out at the aftershow party once all the acts are done?
Ben: Hell yeah! I've been to the past three Slam Dunk Festivals and they are wild. We've got so many friends playing the festival that with good times and a drum of alcohol, a wild night will be instore!
Zach: What else is planned for Summerlin after Slam Dunk is over?
Ben: Well, we're going to go straight into the studio to track our record. We take a few days out to play a small tour with Verses and CourageHaveCourage to push our single. We are hitting Doncaster, Nottingham, Birmingham and London, so that should be a blast!
Zach: Is there anything else you'd like to add or share with our readers?
Ben: To be honest, I'd just like to thank everyone who has already bought our single, and for all of you guys who haven't yet heard it please take the time to check it out.
LEEDS SET TIME: 22:00 – 22:30 (10:00pm – 10:30pm) on the Kerrang! Introducing stage.
HATFIELD SET TIME: 19:30 – 20:00 (7:30pm – 8:00pm) on the Kerrang! Introducing stage.
RIYL: Not Advised, Hellogoodbye, Out Of Sight
LISTEN TO: I've Got A Future And You're Not In It, Sleeps, Watch You Dance