After an almost 5 year gap between albums, Hellogoobye finally released their sophomore record 'Would It Kill You?' in the UK on March 14th, and though currently their presence isn't as great as their debut brought them, Hellogoodbye are set to change that. Following a short UK headline stint, the band are scheduled to perform on the Jäger Stage at this year's Slam Dunk, so we got in touch with frontman Forrest Kline for a little chat about the festival: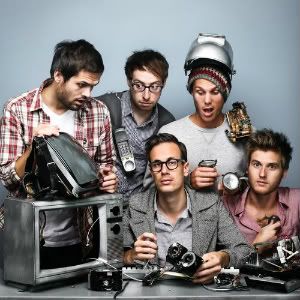 Zach: Are you guys looking forward to your set at Slam Dunk this year?
Forrest: Sure, totally. Festival settings are always neat 'cause there's a lot of people who will hear you on accident without preconceived notions. We did it a few years ago and it was a cool thing, we even got some kebab afterwards.
Zach: Before your appearance at Slam Dunk you'll be playing a few UK headline dates, are you excited to be coming back to the UK?
Forrest: We've been looking forward to come to the UK since we left, and it's been over 3 years I think. A few of us have visited before and are super excited to do it all again, and a few of us have never been but are equally jazzed. I've always felt nicely at home in the UK.
Zach: For those who haven't listened to your music yet, how would you best describe your sound?
Forrest: Ooh, this is always a super tough question. I'd say pop, but hopefully the good kind of pop, orchestral, baroque.
Zach: You released your new album 'Would It Kill You?' in the UK in March, how would you say it's a progression from your debut 'Zombies! Aliens! Vampires! Dinosaurs!'?
Forrest: It's like night and day sort of, but in the same town. I think the biggest impact was changing my means of making music. I used to do a lot of sequencing, and laptop stuff. Then I got a garage I turned into a studio, and started getting comfortable building songs in a totally different way. So this new record is much more loose, more about the natural energy of playing and less about the energy the compressor gives a kick drum sample.
Zach: What can people come to expect from you Slam Dunk set?
Forrest: I think they can expect us to be a little bit of the odd man out. Maybe every band feels that way, but we might be the quietest band there, haha.
Zach: Are there any other bands on the line-up that you plan to catch whilst you're there?
Forrest: The Starting Line maybe, and Hit The Lights. We toured with those guys before, and they're all super fun guys. 3OH!3 are really good dudes too.
Zach: Will you guys be chilling out at the aftershow party at all?
Forrest: Definitely. That's where I'm really gonna spread my wings and come to life!
Zach: What does Hellogoodbye have planned after Slam Dunk is over?
Forrest: We've got four more headline shows in the UK, then we head home and have some more touring in the US. We should have some new music soon too, a longish EP probably.
Zach: Is there anything else you'd like to add or share with our readers?
Forrest: We're stoked to come to your wonderful country. Please check out our new record if you haven't, just give it a spin, or you don't have to, it's a free country (that's something we say over here… I think it still works for you guys).
LEEDS SET TIME: 15:35 – 16:15 (3:35pm – 4:15pm) on the Jäger stage.
HATFIELD SET TIME: 15:35 – 16:15 (3:35pm – 4:15pm) on the Jäger stage.
RIYL: Breathe Carolina, Motion City Soundtrack, A Rocket To The Moon
LISTEN TO: Here (In Your Arms), Homewrecker, Touchdown Turnaround (Don't Give Up On Me)