Bath's Decade just kind of came out of nowhere recently, grabbing support slots for the first D.R.U.G.S. headline UK tour and bringing out their debut EP 'Lost At Sea' for free download. To top that all off, the pop-punk quintet have now got themselves a slot at this year's Slam Dunk Festival, performing fairly early on in the day on the Macbeth stage alongside some fairly big names. The band had a little chinwag with us, talking about the EP and their video for 'It's Good To Be A Vampire', along with of course how hyped they are for their Slam Dunk sets: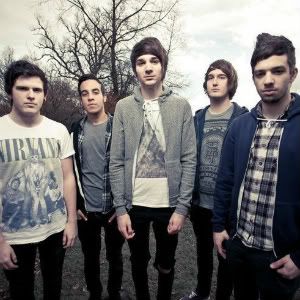 Zach: How are you guys looking forward to your sets at this year's Slam Dunk Festival?
Decade: We're stoked! It's an honour to be a part of the biggest pop-punk festival in the country. A few of us were at several of the Slam Dunk dates last year, so to actually be playing the main festival dates a year on from then is awesome.
Zach: You're playing pretty early in the day on the Macbeth stage, are you guys nervous at all?
Decade: The more shows you play as a band, the more you get used to playing to bigger crowds. We're more excited than nervous really, the Macbeth stage line-up is rad! Everyone should make sure they check out our tour buddies This Time Next Year, A Loss For Words and of course Set Your Goals.
Zach: You're currently giving away your debut EP 'Lost At Sea' for free download, how did that idea come about?
Decade: Who doesn't like free music? We obviously want as many people as possible to hear what we do, so we thought the best way would be to give it away for free. Readers can get their copy from here. We also give away physical copies at shows, so if anyone's coming down to a show or festival we're playing in the near future come say hey and we'll sort you out.
Zach: You also released a music video for your track 'It's Good To Be A Vampire', how was the shoot for that?
Decade: Shooting that video was a lot of fun, but it was also really intense. With it being such a short track it only took about an hour to film. We actually shot the video for our upcoming single later that day, which took a further three hours. We were all pretty knackered by the end of it!
Zach: For those who haven't listened to your music yet, how would you best describe your sound?
Decade: Overall we mix elements of hardcore and pop-punk, but we try to retain a British edge to our sound, influenced by bands like Reuben and Hundred Reasons. We incorporate heavy riffs and drum parts mixed with clean vocals to create a pretty fresh sound. You can definitely hear it our new songs.
Zach: Why should people going to Slam Dunk this year come along and check out your set?
Decade: We'll be playing songs from our 'Lost At Sea' EP as well as some brand new material. We bring a high energy performance to every show, so come down and move with us!
Zach: Are there any other bands that you guys are planning to catch whilst you're there?
Decade: Hopefully we can catch The Dangerous Summer before we go on. I think we're all planning to go and check out While She Sleeps too, as well as our friends in Blitz Kids who we toured with back in March on the D.R.U.G.S. tour.
Zach: What's planned for Decade once Slam Dunk is over?
Decade: We'll be playing Make A Scene Festival in Middlesbrough in late June, as well as Sonisphere in early July too. Also, our new single 'The Doctor Called (Turns Out I'm Sick As Fuck)' will also be coming out very soon, as well as the video we recently shot for it. After that, we'll just be touring as much as we possibly can!
LEEDS SET TIME: 15:15 – 15:45 (3:15pm – 3:45pm) on the Macbeth stage.
HATFIELD SET TIME: 15:25 – 15:55 (3:25pm – 3:55pm) on the Macbeth stage.
RIYL: Me Vs. Hero, Not Advised, Four Year Strong
LISTEN TO: It's Good To Be A Vampire, Lights Out, Lost At Sea