Considering their slightly low status of popularity over here in the UK, you'd be surprised to hear that A Loss For Words have been going strong for over a decade now, complete with a discography of multiple studio albums, and most recently even a motown tribute record, 'Motown Classics'. With a new full-length on the way along with an appearance at this year's Slam Dunk Festival weekend, we caught up with frontman Matty Arsenault to see how psyched he is about playing it: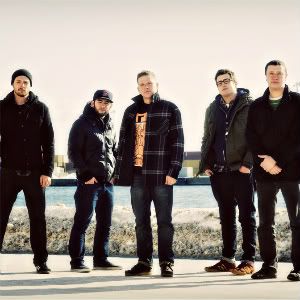 Zach: Are you guys looking forward to your set at Slam Dunk Festival this year?
Matty: Fuck yes we are. This festival always has such a solid line-up, and we have so many friends that are playing there too!
Zach: Your appearance there coincides with a tour across the UK, how would you compare UK shows with shows back in the US?
Matty: It's tough to say honestly, but I think kids in the UK tend to appreciate it a lot more, and that makes us stoked on playing over here.
Zach: For those who haven't listened to your music yet, how would you best describe your sound?
Matty: I'd say it's like Jameson whiskey with a nice Guinness to follow it up, a bit like Mötley Crüe, haha.
Zach: You released the album 'Motown Classics' last year, how did the idea of that record come about?
Matty: We all really love R&B and classic Motown jams, and so we decided just to do something fun and make the record. We had so much fun with it!
Zach: Why should people going to Slam Dunk this year come along and check out your set?
Matty: Well, if they like honest music, they should come over our way. We love playing our set. We play Motown songs, new songs, old songs, and acoustic songs. A mix of everything really.
Zach: Are there any other bands on the line-up that you're hoping to catch whilst you're there?
Matty: Well, we're on tour with our homies in Set Your Goals and This Time Next Year, so I'll definitely be watching them. I'm also stoked to see our other friends like Hit The Lights, The Starting Line, Less Than Jake, VersaEmerge and Basement too.
Zach: Will you guys be chilling at the aftershow party once it's finished?
Matty: Fuck yes! We love to party with all of our friends and the kids who support us. We're so stoked!
Zach: What's planned for A Loss For Words once Slam Dunk is over?
Matty: We're going to record a new full-length, we are stoked to have new music out. Then back to touring like crazy.
Zach: Is there anything else that you'd like to add or share with our readers?
Matty: Mud shark! Head to Rise Records and our Facebook page for more info on the band.
LEEDS SET TIME: 17:50 – 18:20 (5:50pm – 6:20pm) on the Macbeth stage.
HATFIELD SET TIME: 18:00 – 16:30 (6:00pm – 6:30pm) on the Macbeth stage.
RIYL: Man Overboard, Fireworks, Such Gold
LISTEN TO: Mount St. Joseph, Stamp Of Approval, 40 Thieves