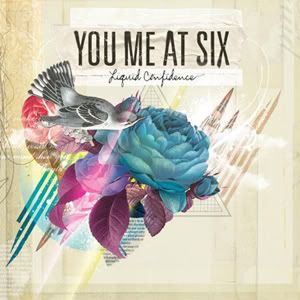 Release Date: April 19th, 2010
Label: Virgin
Website: www.youmeatsix.co.uk
MySpace: www.myspace.com/youmeatsix
Rating:

Anyone who knows You Me At Six will be fully aware how quickly the band have grown so huge, and since the release of second album 'Hold Me Down' earlier this year things have only blown up even bigger than anyone could have ever imgagined for the Weybridge-grown 5-piece.
There's very little hesitation in saying that 'Liquid Confidence' is very possibly the weakest single the boys have released to-date. Though songwriting is showing clear improvement in this release, it also shows the group at their most emo, bland and mundane. The Glee-esque backing vocals of "Ah, ah, ah, ah-ah" are irritable and at times cringing, and though the chorus as with all work they've made remains catchy as hell there's just so many more tracks from 'Hold Me Down' that could bring more deserving justice from the album.
Don't regard this as the whole feel of the band's latest album, it's You Me At Six watered-down at their possible worst.
Written by Zach Redrup