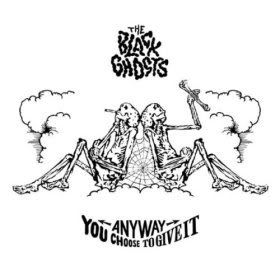 Release Date: April 2nd, 2007
Label: Southern Fried Records
Website: None available
MySpace: www.myspace.com/blackghosts
Rating:

A name such as The Black Ghosts isn't quite what you'd expect from a band that have a techno/indie sound, but what does that matter nowadays; their new single, 'Any Way You Choose To Give It', has a catchy hook and beat to it. More than just one surprise from this lot then.
Despite being synthesiser and keyboard heavy, this isn't quite the kind of thing you'd get out your glowsticks and rave to. However, give it a listen or two and it will be stuck with you like a piece of chewing gum on your jeans; especially with all the different versions – there's an LP version, an extended version, and a few remixes floating around as well. Surely there'll be one you like the sound of, unless this kinda stuff isn't your bag.
It might not quite reach the standards of Klaxons, and it won't be as popular as the likes of Red Hot Chili Peppers, but it's a good tune all the same.
Written by Zach Redrup