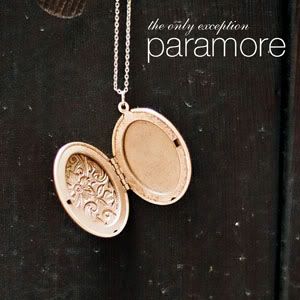 Release Date: April 19th, 2010
Label: Fueled By Ramen
Website: www.paramore.net
MySpace: www.myspace.com/paramore
Rating:


Third full-length album 'Brand New Eyes' has managed to sky-rocket Tennesse teen rockers Paramore into realms both the fans and bands alike never thought possible. With successful single followed by successful single, 'The Only Exception' has the potential to keep the winning formula going for Hayley Williams and the boys.
Dragged away from the usual routine the band follow with distorted guitars and loud drums behind Hayley's loud and powerful vocals, 'The Only Exception' is a beautiful open-hearted tale of Hayley's slowly growing belief in love. It also manages to reveal perfectly the band's growth in maturity over the years since their inception aswell as their diversity in different styles. Those not familiar with the album can now see it's not just a one-trick horse.
'The Only Exception' does a lot of things for the band, but admittedly if you're a fan of their fast pop-punk approach this might be one to avoid.
Written by Zach Redrup
Founder & Editor for DEAD PRESS!