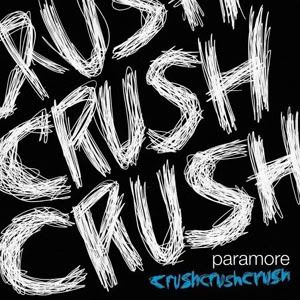 Release Date: November 26th, 2007
Label: Atlantic
Website: www.paramore.net
MySpace: www.myspace.com/paramore
Rating:


With the success of second studio album 'RIOT!' and its lead single 'Misery Business', Paramore's international popularity has sky rocketed over the past six months or so. Now with third album single 'CrushCrushCrush' released, are they going to maintain this status, or are they just one of those bands that only ever have that one hit that gets them anywhere?
Well, essentially 'CrushCrushCrush' doesn't have the same elements of pop that's present on 'Misery Business' which will get them into commercial charts across the globe, but this isn't a bad thing whatsoever.
From the very first second the drum work of Zac Farro steadily climbs in volume, till we reach the point when the other band members join in. As ever, the vocal work from Hayley Williams is simply insatiable, and is reason enough for you to at least listen to this single. The lyrics found in this song states a song about (as stated three times in the title) a crush, and those lyrics found in the bridge "Rock and roll, baby / Don't you know that we're all alone now? / I need something to sing about." are some of the more seductive examples in this band's arsenal.
The band have grown and progressed substantially from the their excellent debut album 'All We Know Is Falling', showing a bit more of a adult and seductive side lyrically. If they keep this up things can only get bigger and better for Paramore.
Written by Zach Redrup