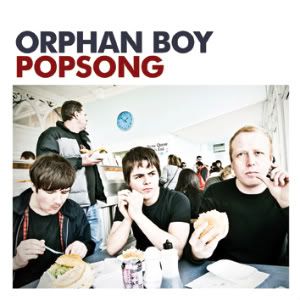 Release Date: July 19th, 2010
Label: Concrete Recordings
Website: www.orphan-boy.com
MySpace: www.myspace.com/orphanboy
Rating:


Small names in the music world, Orphan Boy may well be on the winning formula to cracking through into a bit more success with the aptly titled 'Pop Song'. A slice of indie rock that has a well needed fun and quirky side to it in the now suffocating genre Orphan Boy are residing within.
Almost like a tale, 'Pop Song' talks of the regular problems drawn to bands and artists who see an oppurtunity and jump at it without forseeing the consequences. Selling a song on, not getting the well deserved wonga from it, and in the end flopping.
Orphan Boy are just another one of those bands who are after just a little bit of spotlight. 'Pop Song' may be their big step into it, and even if it isn't it's more deserved than half of the posers and hacks in there right now.
Written by Zach Redrup