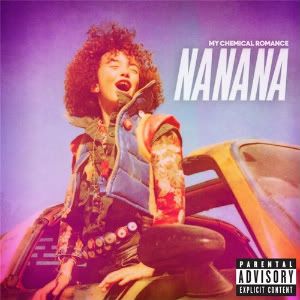 Release Date: November 8th, 2010
Label: Reprise Records
Website: www.mychemicalromance.com
MySpace: www.myspace.com/mychemicalromance
Rating:


Thank God My Chemical Romance shortened their lead single's track title to simply 'Na Na Na' as opposed to the original and annoyingly long 'Na Na Na (Na Na Na Na Na Na Na Na Na)' as intended. That's 12 "na"s by the way before you start counting away. Chosen simply due to the popular feedback on their album's teaser trailer, 'Na Na Na' is an unintended single choice for the New Jersey 4-piece, and strips away any 'emo' tag punched onto them quick and fast since their 2004 sophomore effort, 'Three Cheers For Sweet Revenge'.
This time around, the Way brothers, accompanied by Frank Iero and Ray Toro, go for a more fun-filled and energetic poppy punk rock facade, keeping things fast and uplifting. Frank and Ray's riffs are simple yet grizzly and help fatten up the punk vibe in Gerard's vocals. The chorus line of "na na na" (obviously) may be an incredible annoyance to some, but love it or hate it you've got to have a mind made of steel to not have it looping around your head for a while after catching it in your ears.
It's a different sound to what you've heard them before in the mainstream, going back slightly to the days of their debut 'I Brought You My Bullets, You Brought Me Your Love', except more polished and less depressing. Long time haters are still gonna hate, but those with open minds might find some new love for My Chemical Romance.
Written by Zach Redrup
Founder & Editor for DEAD PRESS!