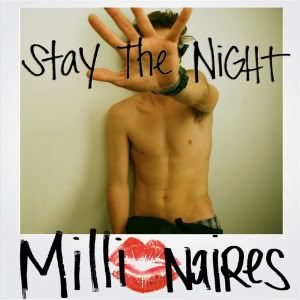 Release Date: July 25th, 2010
Label: B-Unique Records
Website: None available
MySpace: www.myspace.com/millionaires
Rating:

Often on the pedestal of abuse and ridicule, Millionaires have never been a respected model in the music industry. Their music created for controversy and fun through basic music creating software GarageBand, it's hard to see how they'd gain much respect at all. But maybe that's not what it's all about for them. Maybe Millionaires just follow that familiar saying Cyndi Lauper once said, "girls just wanna have fun".
'Stay The Night' is a recycle bin makeshift of almost every single pop song in the charts today. You've got your simple 4/4 synthetic beat intertwined with electro-pop fill, autotuned vocals, simple vocals suggesting sexual connotations and activities, and of course a catchy chorus hook. They know the basic forumla for pop success and flaunt it.
Though this is just simplistic and cliche average pop, it shows some level of maturity and progression from their days of just getting paid and seeking to get laid. The "sex-factor" is far more subtle and fitting to the music, and though not a materpiece of musical creation it is undeniably just for fun. Melissa Green, Allison Green and Dani Artaud are all very far from the next Christiana Aguilera, but they never claimed to be.
Everything is fitting and Millionaires are slowly fitting into a place they look comfortable in and suit just fine. They're standing on the beginning of the path to building themselves into pop superstars, but it's a long walk until they get anywhere near that level of respect and stardom. But everyone has to start somewhere, right?
Written by Zach Redrup