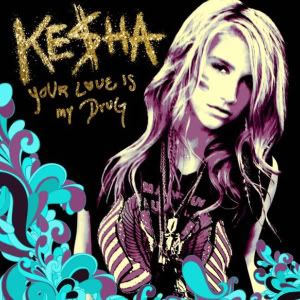 Release Date: June 6th, 2010
Label: RCA
Website: www.keshaparty.com
MySpace: www.myspace.com/kesha
Rating:

From soaring to pop royalty with the infectious 'Tik Tok' before moving onto less successful but just as catchy 'Blah Blah Blah', new single from singstress Ke$ha has the same party and feel good vibe she's most known and loved for, and will undoubtedly fill dancefloors wherever it goes.
Slowly stepping us in with a reverse electro pulse before soon speeding things up with a basic drum input, 'Your Love Is My Drug' is much like all the other Ke$ha singles released thusfar except probably a litte more mature. Instead of talking about partying and brushing her teeth with a bottle of Jack Daniels, or telling people to stop talking that "blah blah blah", love is on the agenda.
The middle-section interlude with the overlayed of autotune along with the simplistic and repetative chorus fail to hide what you may find as her irritating voice, especially as it has every quality to get stuck in your head. But most will find this a healthy and addictive slice of electronic pop.
Written by Zach Redrup