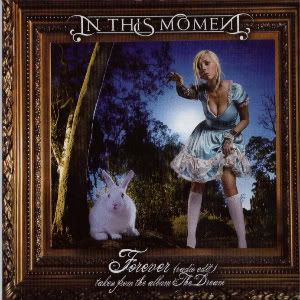 Release Date: April 6th, 2009
Label: Century Media
Rating: 7/10
Website: None available
MySpace: www.myspace.com/inthismoment
After only a short period of time from their last album release, female fronted metal band In This Moment come back again with their second album 'The Dream', and lead single 'Forever' is a fantastic display of melodic metal.
The simple yet effectively loveable guitar riff opening reels you into what is an evolution and progression of what you'd find on a good amount of their previous material. It has an accessible element that manages to steer far away from the expectations of mainstream to keep it alternative and respected in their scene. Maria Brink's vocals have improved too, making for an insatiable performance and thirst to recite the chorus lyrics "Forever starts today / Forever we will be / Forever's every day / Forever faithfully" everytime. The structure and blend of mellow and melodic and oozes of rock back and forth only add to the quality of the single, boosted with a short yet masterful guitar solo from Chris Howarth.
'Forever' almost dabbles towards mainstream, but stays very well in its intended metal scene. No matter what it is, this single is a fucking stormer.
Written by Zach Redrup