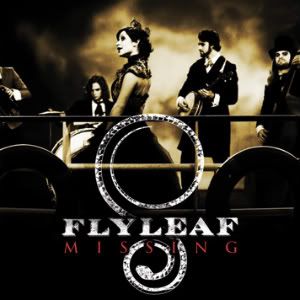 Release Date: April 5th, 2010
Label: A&M/Octone Records
Website: www.flyleafmusic.com
MySpace: www.myspace.com/flyleaf
Rating:


Fronted by female vocalist Lacey Moseley, Flyleaf are strangely yet another band subcategorised into the "just like Paramore" clique. Though not as often as bands such as VersaEmerge or Hey Monday, anyone familiar with anything by Flyleaf and at least a few brain cells could easily be confused as to why this was ever the case.
One listen to 'Missing' and you'd be one to join the other confused ones. The only similarity it has is the infectious pop rock hooks, and after that: nada. The band's alt rock fused with pop is one that gets the chorus "Something's missing in me" on constant loop with just one listen, and shows a much lighter and friendly forefront than what you'd find throughout the rest of the album it's taken from.
'Missing' is a good single to begin with if you want to get into Flyleaf, and might have you reaching for your hairbrush to sing along with Lacey.
Written by Zach Redrup