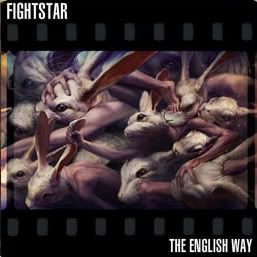 Release Date: November 3rd, 2008
Label: Sandwich Leg
Rating: 8/10
Website: www.fightstarmusic.com
MySpace: www.myspace.com/fightstarmusic
It's fair enough to say that Fightstar probably won't ever be taken seriously by everybody who's exposed to them, mainly due to Charlie Simpson's past in the huge pop-rock band, Busted. But, Fightstar has now been going for 5 years strong, and 'The English Way' is just one more piece of evidence that he clearly did the right thing forming this band.
'The English Way' is just another step forward for the band, creating that usual post-hardcore/alternative rock approach with catchy hooks to keep the songs in your head and remembered whether you hate it or not. It's heavy yet approachable, and could pretty much be seen as a "fuck you" to all the haters that are still out there. The tag team-like vocal works of "You are, you are / You're all around" between Charlie Simpson and Alex Westaway are still as strong and co-operational as ever.
Fightstar are a band in their own right, and by the sounds of things they won't be going anywhere for a good while yet.
Written by Zach Redrup
Founder & Editor for DEAD PRESS! | Atheist and antitheist. | Judge of the quick & the dead since 1989.