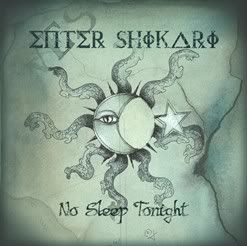 Release Date: August 17th, 2009
Label: Ambush Reality
Rating: 6/10
Website: www.entershikari.com
MySpace: www.myspace.com/entershikari
Who's have known that Enter Shikari's debut album 'Take To The Skies' would actually be explaining in short what the St. Albans quartet would be doing, and even further since the release of second full-length 'Common Dreads' earlier this year. Sadly though, it seems the boys have decided to take the weaker offering of 'No Sleep Tonight' from the record.
Sure, the single has the trademark Enter Shikari sound; the rock splashed with synth, and the catchy chanting chorus, but despite all this lacks the raw passion and energy that makes this band stand out from the rest. Undoubtedly it's going to climb various charts and invade various music video channels on the television and radio stations, but we all know that the boys have much bigger gems in the treasure of 'Common Dreads'.
Written by Zach Redrup
Founder & Editor for DEAD PRESS!