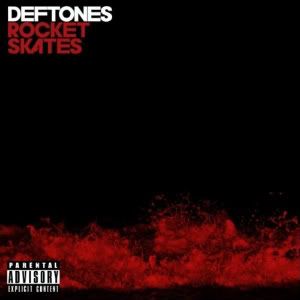 Release Date: February 23rd, 2010
Label: Reprise
Website: www.deftones.com
MySpace: www.myspace.com/deftones
Rating:

Always considered an original, unique and inspirational band, Sacramento's Deftones have consistently managed to release singles that are either moving, aggressive, or a bit of both. New single 'Rocket Skates' is the latter of the three mentioned, but definitely grinding more against aggressive than anything else.
"Guns! Razors! Knives!" is screamed in a lacing of distortion by frontman Chino Moreno. All the while you're under a bludgeoning attack of sledgehammer drumming and metallic riffs, keeping you in a chokehold before unexpectedly yet conveniently setting you down with Chino's distinct melodic style, repeating the lyrics "You're red, soaking wet" throughout the track. It's the traditional trademark Deftones forumla, and maybe 'Rocket Skates' could be a little taste of what could be a fantastic album to follow.
Keep it coming Deftones, we're loving every second of it.
Written by Zach Redrup
Founder & Editor for DEAD PRESS!