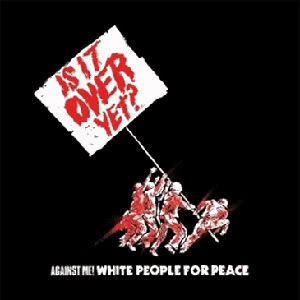 Release Date: July 2nd, 2007
Label: Sire Records
Website: www.againstme.net
MySpace: www.myspace.com/againstme
Rating:

Hardcore and political punk at its (almost) best. Catchy yet angry, like an addictive opinionated juggernaught, 'White People For Peace' is the newest single release from Against Me!. The band show they've taken inspiration and influences from various punk bands, including The Sex Pistols, The Clash, Anti-Flag, and perhaps even a little of Rise Against.
As with all political punk bands, Against Me! are angry at the country and the government, and aren't afraid to get their point across very literally. Tom Gabel is a man of anger at his country and the way it's run, shown in lyrics such as "The broadcasts like their prayers were unanswered." and "Sirens filled the air, and the ground shook with war." This tells you nothing but one thing – politicians, you better had behave, or you're going to have more of a mouthful than this.
Written by Zach Redrup
Founder & Editor for DEAD PRESS!