Everyone knows that after the huge surge in popularity with Drop Dead Clothing, the amount of people trying to recreate the company's success by setting up and running their own alternative clothing companies. Needless to say, most of these were complete flops and failed within the first few months of their existence, but some perservered much longer, and even a slight few managed to survive and are still running strong today. One of these success stories is Michael Douglass (or Dougie if he's your mate) and his line, Big Deal Clothing.
With 2010 consisting of the brand setting up stalls and selling at high profile festivals like Ghostfest and Hevy, and tours alongside sponsored bands Bury Tomorrow and Shadows Chasing Ghosts, constant shoots from Marianne Harris, and not to mention features in magazines like FRONT and the brand being sold in stores around Europe, we wanted to learn more about the story with Big Deal and where it all began. We caught up with founder and main man Dougie to find out his story, his plan for success, and where he hopes 2011 is going to take the company:
Zach: So Dougie, please tell us, what's the big deal about Big Deal Clothing?
Dougie: Big Deal is an independant, UK based clothing label who have been producing eye-catching, affordable designs aimed at the alternative rock youth generation since 2008. Hard work and avid promotion, including appearances at UK and European Festivals such as Groezrock, Ghostfest and Hevy, along with regular tours with some of their endorsed bands (Shadows Chasing Ghosts, Bury Tomorrow, The Casino Brawl) and recent features in music press have helped push this brand to the forefront of the scene. Big Deal is more than just a name, it is a family highly passionate about music, who prides itself in the personal relationships it forms with the bands it works with, and the mutual support and enthusiasm that comes from building such relationships. Working with a close knit team of people, including one of the UK's leading alternative music photographers Marianne Harris and exclusive Big Deal models Jen Hughes and Emma Braund, and with an ever growing fanbase of kids and bands wanting to be seen in the latest gear, is helping to ensure Big Deal's credibility as a label worth checking out.
Zach: The brand has only been going for a few years now, when did you first think "I'm gonna start a clothing line" and actually get it going?
Dougie: Since I was younger I've always been creative and enjoyed making things, I was a keen BMXer and spent all my spare time making BMX videos. This got me into media, which ended up with me going to University in Lincoln and getting a degree in Media Production. I always thought about creating my own clothing line, so when I graduated I decided to go for it. I saved up and bought my own screen printing equipment and spent many hours in my garage trying to learn it and creating the first Big Deal tees, then as the designs got more complicated and the quality of the prints needed to be the best I could get, I started getting them printed professionally. Once they got to a standard I was happy with, I built myself a website and a web store and started to sell online. I also started touring the country and then Europe, taking my tees to shows to get the word about. Since the start I've been lucky enough to tour with some great bands/friends all over Europe from UK, Belgium, Holland, Germany, Croatia, France, Austria and Italy.
Zach: Why the name 'Big Deal', and what other names did you have in mind for naming the brand?
Dougie: The name came from something I created when I was at college; we made one specific video which we then premiered to the BMX community. Throughout this video there was an on going joke (at my expense), obviously being "kind of a big deal", and the joke stuck and when I was out one night thinking about the name someone brought it up again. 'Big Deal' was suggested and we all thought it'd be quite memorable, and when I look back to it the name will always remind me of good times with my friends.
Zach: When did you first realise "wow, people are noticing this" and saw it all going somewhere?
Dougie: I'm not really sure, it all happened quite quickly, but one moment must be on the second or third trip to Belgium when I was selling out out at 200-300 capacity shows, so selling out in a different country kind of made me think maybe I really have something here and really made me think hard to the best ways to carry the brand on.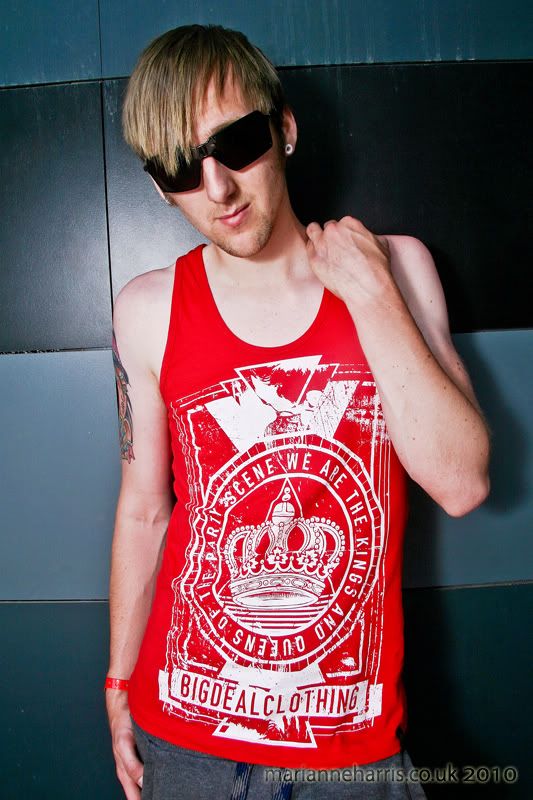 Zach: Last year you had stalls set up at high profile festivals like Ghostfest and Hevy, and you also went on tour with your endorsees and friends Bury Tomorrow and Shadows Chasing Ghosts, what's it like being able to sell your products at such shows?
Dougie: It's great. I love it, because we are all about this music scene and see us as a part of it rather than attached onto it, to be able to be there at the shows and give add something to the shows is great. Plus, there's nothing more fun than touring around the countries with a good group of friends, setting up, partying and watching some great bands, and the amount of ace people we get to meet is awesome. It's also such an incredible feeling when you're at a show and you see people really excited about having got one of your shirts and then see them wearing it straight away. Nice to see it actually happening in front of your eyes rather than with the online sales where it's just a name on the order.
Zach: Other bands you're keeping all clothed and looking sweet include Yashin, While She Sleeps, Francesqa, Atlas&i and Deaf Havana to name a few, what do you look for in a band before you choose to sponsor them?
Dougie: It's hard to say because looking at the bands we endorse there's quite a big difference between them all. The way most of the bands have got involved have been through meeting them in person, becoming friends first, as we don't want a band that just wants free clothes, we want someone who really believes in the brand and generally likes what we are doing. Doing it like that means it works the other way too, we don't want to have their name and that's it, we want to be able to help them and promote them as much as we can, with the bands we endorse we work very close with.
Zach: The range of products included has now expanded from t-shirts, and now include jumpers, underwear, vests and even shoes! Is there any other item of clothing you're planning on getting the 'Big Deal' name upon?
Dougie: You will be seeing more specialist garments including dresses, bikinis, Henleys, polo shirts and more. Don't want to say too much right now!
Zach: When it comes to designs and ideas for future products, where do you draw your inspiration from?
Dougie: Well I love clothes, so I'm always on other brands store buying their clothes, but as for how we come up with a design it usually starts with a big brainstorming session with the Big Deal family – Marianne Harris, Jen Hughes and Emma Ducky about what each of us would like garment style wise and what we think could take the brand to the next level. We'll look around the American Apparel site at all the different styles and pick the styles we like. Once we have the style we decide what we'd like to gain from producing the specific garment, then once we have the style and the purpose of the garment I then take it to one of our designers, which will be whoever best suits this style of garment and will convey the ideas over, then they will come up with about 10 different sketchs and designs and throw them back and forth 'til we are heading in the right direction, and then work on the design we feel works best. From there we'll mock it up on the desired garment and I'll take it back to the Big Deal family, and then we will decide if it's doing what we want it to do, and if it's the designer will create the final design.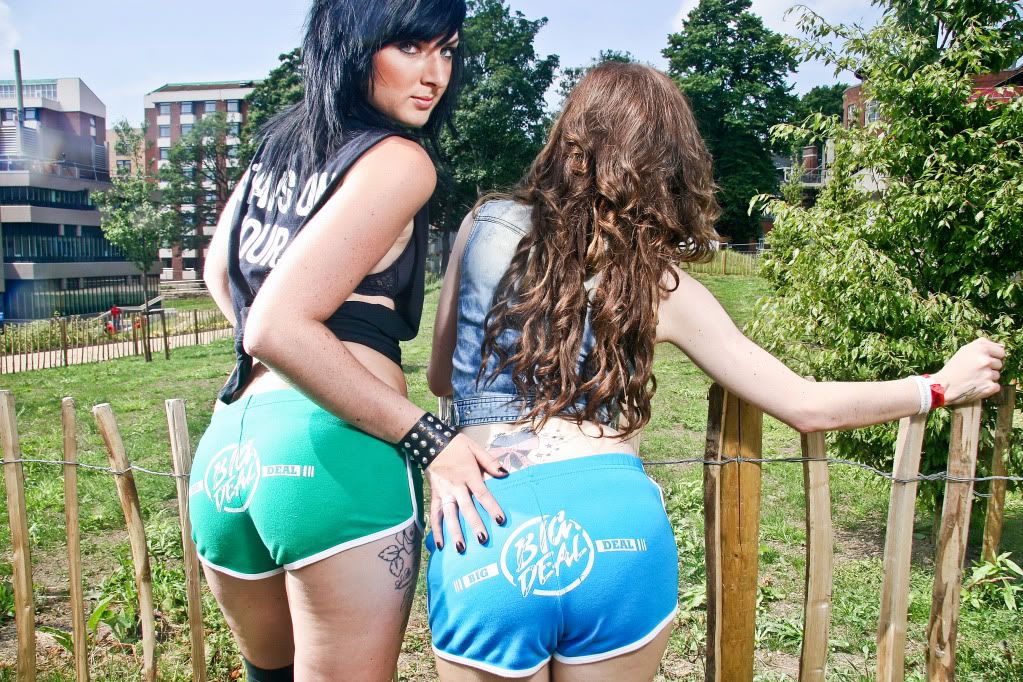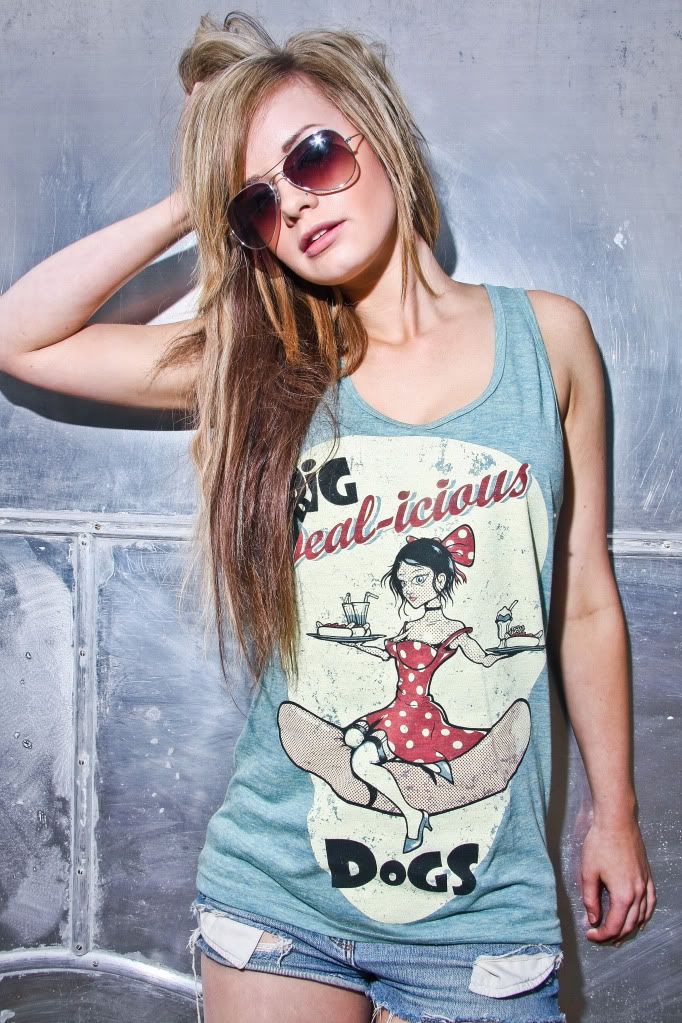 Zach: The majority of all your promotional shoots have been taken by photographer Marianne Harris, why do you choose her from all the other photographers out there?
Dougie: Marianne Harris is just incredible, her work is the best. I met her for the first time whilst on tour with Shadows Chasing Ghosts when we went to Belgium. After those five days I was hooked with her work effort, her idea and generally how she works with people within the industry. The thing I really love about Marianne is how she doesn't just turn up, do the shoot, take the money and that's it, but she really gets into what she's doing and is really into the brand, constantly coming up with ideas and suggestions on bands and festivals to get involved with. It's got to the point now where she has got into the brand that much she is pretty much my number 2 (along with Jen Hughes). She's now taken control of looking after the bands and artists endorsed by Big Deal, and she also works quite close on the events we are going to do next year.
Zach: For people out there looking to start their own brand, or who've just taken their first steps into the clothing world, what advice would you give them to get on the right path?
Dougie: The main bit of advice I would give is do what you want to do, and be 100% happy with what you are creating before putting anything out there. Also, don't do it on your own, that has easily been the hardest part of Big Deal. There's a lot more that goes into making a successful clothing line than most people would think. One last thing too: help out anyone that you can. If you are really into what you're creating and the fashion industry you'll like and respect what other people are doing too.
Zach: It's been a great year for Big Deal in 2010, what can we expect to see from the brand by the end of 2011?
Dougie: Next step, well more of the same: keep on pushing Big Deal further, release more top quality garments, and supporting some great music. You'll be seeing more specialist garments, including dresses, bikinis, Henleys, polo shirts and more, but I don't want to reveal too much at the moment. Also, as I mentioned, 2011 is going to be a big year for Big Deal. You should be seeing Big Deal appearing in a lot more stores for one, we plan on doing lots more shows and events all over Europe, plus festivals. The festivals we attended last year were great and worked very well, so hopefully we'll be doing something special at the awesome Hevy fest!
Zach: Do you have any final words for customers and fans of the brand?
Dougie: I would just like to thank everyone who has helped Big Deal get to where it has so far. It really wouldn't be where it is today if it wasn't for certain people. There's too many to list here, but I hope they know who they are! Thank you all.