Now that Slam Dunk is out of the way and Download is happening this weekend, this year's Red Bull Bedroom Jam festival line-up have now got a bit of experience behind them to tackle the many opportunities that will no doubt be presented to them. We caught up with Essex based rockers The Jellycats to talk about it all: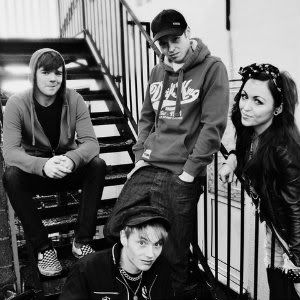 DP!: First off, congratulations on making it through to the festival tour stage of the RBBJ. How does it feel to have made it this far?
JC: It's crazy. When we uploaded our video onto the Red Bull Bedroom Jam site we never imagined we'd be filiming a bedroom jam, let alone heading off to play all these awesome festivals. We're all so excited for the summer ahead and so thankful to everyone who has been so supportive in helping us get here. We're going to be making tons of amazing memories this summer and plan on making the most of every minute; we just can't wait to get this ball rolling.
DP!: Could you please tell us where you guys are from and how the band came together?
JC: We're a female-fronted ska/punk/pop/rock band from Essex, consisting of Emma on vocals, Ollie on guitar, Rob on bass and Stu on drums. Emma and Ollie had been writing songs together for some time and it seemed only natural to form a band, so in 2010 together with Ollie's brother Stu on the drums, The Jellycats were formed. 2010 saw us go through 6 bass players, all of whom dropped out because apparently "no one wants to play the bass" (que bass player jokes). But in early 2011, we finally found a fellow local musician who didn't share this view, had his own bass guitar and apparently earned "a shit load" at Sainsburys. He went by the name of "Jonson" (Rob), and so the journey began…
DP!: What's the story behind the name of the band?
JC: Ha, well it was the result of a messy night out. We couldn't decide on a name we all liked, so we went out and took a bit of paper about with us and all through the night just kept adding and adding difrent names to the list. The next morning we woke up and The Jellycats was on there. Nobody remembers writing it, where it came from, and the writing's so bad we can't even tell whose it is, but we liked it and it's stuck.
DP!: As a still relatively unknown band, a lot of people reading this may not have heard your music yet. How would you best describe your sound and style?
JC: Someone once described us as Lily Allen meets Blink-182 at a Madness gig and we thought that was a pretty descent description. Our live shows have been described as bouncy, energetic and fun, and our sound's usually described as unique, with catchy hooks and uplifting melodies. However, as we come from Essex, we just call it "music, innit".
DP!: As part of the festival tour stage, you'll be performing at this year's Slam Dunk, Download and Hevy festivals. Do you think you're prepared?
JC: As prepared as we can be. As a band, we've never played to crowds as big as we potentially could be playing to at these festivals so we might get on stage and crap ourselves (Rob's invested in numerous extra pairs of boxers in case of this outcome). But we're hoping we can just give it our best and really make the most of every minute on stage. Up until now, we've had to have our brass on a backing track as we can't afford to pay for session musicians to come about to gigs with us, but we've got live brass for these festivals and hope that will just add to the energy we plan to unleash on stage.
DP!: Is there any particular festival you'll be heading to that you're most looking forward to?
JC: We're over the moon to be playing at all of them to be honest. We're honoured/privileged/humbled to share the bill with some really inspirational and exciting bands over all three festivals. Getting to spend the weekend at Download though is going to be amazing. We can't wait to see Tenacious D, Metallica, NoFX, Biffy Clyro, Dropkick Murphys… and then we remember that we're actually playing there aswell. Just crazy.
DP!: Why should people come and check out your set at one of the festivals or on an upcoming tour?
JC: We hope we'd add a bit of something different in there, mix it up and get people dancing about like daddylonglegs on acid. Well, maybe not that, but I couldn't think of a better simile! We're a really hardworking band that's making music for the love of music. We don't try and be anyone else or take ourselves too seriously. We just have a laugh, do what we do and hope that you enjoy it.
DP!: Have you managed to check out and listen to any of the other bands who've made it to this stage of the RBBJ contest?
JC: Yeah, all of them. There's such a mix of styles stretching to all corners of the 'rock' genre. It's great and we're really proud to be a part of it. We all met up the other Saturday at the Red Bull studios and everyone seems really nice and it was cool getting to hang out with everyone. It was a great day! We can't wait to share stages and party with our fellow Red Bull Bedroom Jam-mers.
DP!: What's in the pipeline for you guys so far this year?
JC: There's so much going on at the moment; we've recently released our first proper video (filmed by +44 Films) which we're really pleased with, we have a summer full of these awesome festivals (Slam Dunk, Download and Hevy) as well as being on the line-up for some great local festivals like Bay Days and Bear Fest which we're really looking forward to. At the end of this month, we're supporting Bad Manners so we can't wait for that and we're hoping to get into the studio to record our first album in the very near future which is very exciting. It's all go at the moment.
DP!: Finally, is there anything else that you'd like to add and share with our readers?
JC: We hope to see you at the festivals. Woop.