This year's Red Bull Bedroom Jam final 8 bands have just wrapped up what to most bands would be a once in a life-time experience: performing a set at Donington's Download Festival. Along with a set at Slam Dunk a few weeks prior, we got in touch with female fronted rockers Reachback to talk about their experiences so far and what they've got planned very soon: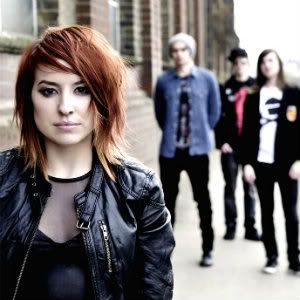 DP!: First off, congratulations on making it through to the festival tour stage of the RBBJ. How does it feel to have made it this far?
Ruby: Amazing! It still hasn't hit us that we will be playing some of the UK's hottest festivals this year.
DP!: Could you please tell us where you guys are from and how the band came together?
Joe: We're all from West Essex, just outside of London. Me and Ruby live in Harlow and Craig and Tom are from Buckhurst Hill and Loughton.
DP!: What's the story behind the name of the band?
Craig: 'Reachback' is Tom's signature dance move! If you're very lucky, he'll show it to you.
Tom: It's true.
DP! As a still relatively unknown band, a lot of people reading this may not have heard your music yet. How would you best describe your sound and style?
Joe: Original pop-punk with female vocals that kick butt.
Ruby: Some bands that influence us a lot are All Time Low, Mayday Parade and You Me At Six, so I guess if you mix that all together then you have Reachback.
DP!: As part of the festival tour stage, you'll be performing at this year's Slam Dunk, Download and Hevy festivals. Do you think you're prepared?
Ruby: Well, we've played some festivals in the past, but obviously nothing compared to the scale of the ones we're going to play this year.
Craig: We have recently supported McFly at the Southend date of their tour, which was a sold out show. So we have had experience playing in front of a big crowd.
DP!: Is there any particular festival you'll be heading to that you're most looking forward to?
Tom: We're all looking forward to the whole Red Bull Bedroom Jam experience, but we're really excited about playing Slam Dunk (South) as we'll be sharing the Red Bull Bedroom Jam stage with one of our favourite bands, Mayday Parade.
DP!: Why should people come and check out your set at one of the festivals or on an upcoming tour?
Ruby: Our set will be fast, fun and really energetic to get you in the mood for what's going to be a great couple of weekends. I also love getting the crowd involved, so get ready to sing along.
DP!: Have you managed to check out and listen to any of the other bands who've made it to this stage of the RBBJ contest?
Tom: We actually have met and played alongside some of the bands that made it through to this stage, so it was really nice to catch up with people. All the other bands seemed really great guys when we met them at Red Bull HQ, which got me even more excited for the festival tour.
Joe: I've checked out all the bands playing the festivals, and I don't think anyone is going to be disappointed with the Red Bull Bedroom Jam stage line-up this year.
DP!: What's in the pipeline for you guys so far this year?
Tom: We're looking forward to releasing our next single this summer, which we have just recorded at Longwave studios in Cardiff with producer Romesh Dodangoda (Kids In Glass Houses, Lostprophets, Motorhead).
DP!: Finally, is there anything else that you'd like to add and share with our readers?
Ruby: Check us out on Facebook (here) and Twitter (here) for all of our upcoming gigs and news.