Now that Slam Dunk is out of the way and Download is happening this weekend, this year's Red Bull Bedroom Jam festival line-up have now got a bit of experience behind them to tackle the many opportunities that will no doubt be presented to them. We caught up with Scottish alt rockers Mechanical Smile to talk about it all: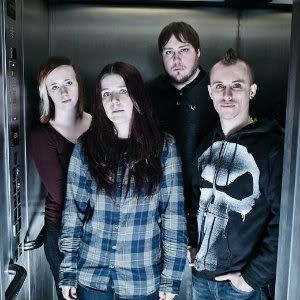 DP!: First off, congratulations on making it through to the festival tour stage of the RBBJ. How does it feel to have made it this far?
Garry: It feels great. It was a massive achievement for us to top the Buzz Chart, and then for the judges to select us for the festivals has literally been a dream come true.
DP!: Could you please tell us where you guys are from and how the band came together?
Murray: We are from Ayrshire, a county in west central Scotland. Myself, Dawn and Garry live in Kilmarnock and Nic lives down the road from us in the coastal town of Ayr. We all met at university studying music, where Dawn, Garry and I had started the band, playing a few gigs and recording the odd demo. Nic joined in January 2011 and that's when we started taking the band more serious rather than as a hobby and we haven't looked back since.
DP!: What's the story behind the name of the band?
Dawn: I love to sleep. I am obsessed with dreams, and I write most if not all of them down when I wake up. I find them fascinating and when we first started the band, Mechanical Smile came to me in a dream, I didn't remember waking up at the time, but I had written it down in the middle of the night. I put it to Garry and Murray and they really liked it. I think it's a good name because it can be interpreted in different ways and can mean something different to different people.
DP!: As a still relatively unknown band, a lot of people reading this may not have heard your music yet. How would you best describe your sound and style?
Nic: I think our music is quite unique. We know how to rock out, but at the same time it is really catchy and poppy and appeals to a lot of different types of music fans. We can be heavy at times but most of our music is quite melodic. Our main influences are bands like The Smashing Pumpkins, Biffy Clyro, Placebo, Silversun Pickups, Nirvana, etc.
DP!: You've just wrapped up your first festival performance as part of the RBBJ contest at Slam Dunk. How did you find it?
Dawn: It was such an amazing experience. The festival scene is new to us, the stage set up was incredible, and definitely something we can get used to. We were quite nervous before playing, but we gave it our all and seemed to go down really well. We learned a lot and can't wait to play Download and Hevy.
DP!: Is there any particular festival you'll be heading to that you're most looking forward to?
Murray: Performance wise, I think Download is the big one for us. It has such a great history and presence, especially this year being in its 10th year and the line-up is massive this year. Also really looking forward to Hevy, as Hundred Reasons were one of my favourite bands growing up and can not wait to see them. It's been too long.
DP!: Why should people come and check out your set at one of the festivals or on an upcoming tour?
Garry: We have a lot of energy on stage. Dawn likes to let her hair down and go a bit wild. Our songs are catchy and are well worth a pogo and a sing along. The music we write is unique, so a lot of different music fans out there can relate to us. You can't really pin down our genre.
DP!: Have you managed to check out and listen to any of the other bands who've made it to this stage of the RBBJ contest?
Murray: We managed to catch Stangle Kojak, Adelaide and Dead Harts at Slam Dunk North. It was great banter all day with the guys, and they all put on a great show. We are all different styles of music but the crowd seemed to enjoy all our performances. Also, it was really cool to catch up with Adelaide in Glasgow the Thursday after Slam Dunk. Me and Dawn went to their gig and they put in an amazing performance.
DP!: What's in the pipeline for you guys so far this year?
Nic: We can't wait for the two Red Bull Bedroom Jam festivals, Download and Hevy. They will be the type of gigs that we will remember for the rest of our lives. We're currently promoting our new EP 'Into The Surface' and have a busy summer ahead of us touring. We have a headline show in Caves in Edinburgh the Friday after Download and then we're away up north to Thurso and Aberdeen, before playing across central Scotland. We're currently booking a whole UK tour for later in the year and are looking forward to venturing across England and Wales. Also, we have a week long tour in Germany in October where we will be playing in cities like Cologne and Stuttgart, really looking forward to returning to Germany.
DP!: Finally, is there anything else that you'd like to add and share with our readers?
Dawn: For anyone who hasn't heard us before, we have some free downloads on our bandcamp page (here) and you can check out our new video for our recent single 'Afterlife' and some more videos at our YouTube page (here). Look us up on Facebook (here) and Twitter (here) and say hello. We're always up for a chat.
Thanks for reading this and hope to see you at a show/festival near you soon.
Founder & Editor for DEAD PRESS! | Atheist and antitheist. | Judge of the quick & the dead since 1989.