With the recent announcement of the eight bands going through to the festival tour of the Red Bull Bedroom Jam contest, we caught with the wildcard winners Golden Tanks from Reading. Ahead of their first stop of the festival tour at Slam Dunk Festival, the guys talked about getting to this stage of the competition, how the band came to be and why you should check them out as soon as you get a chance to: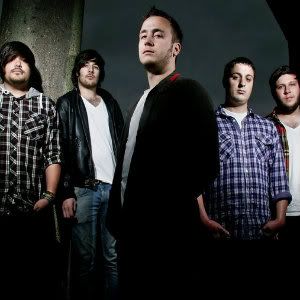 DP!: First off, congratulations on making it through to the festival tour stage of the RBBJ. How does it feel to have made it this far?
GT: It's incredible! We had almost given up on the competition when we saw how many votes other bands were getting in the early stages, so to find out we'd gone through on judges choice only a couple of weeks before Slam Dunk was really surreal, yet welcome news. There were some incredible bands in the competition, so we feel privileged to have gone through.
DP!: Could you please tell us where you guys are from and how the band came together?
GT: We all live around Reading. The band started when a few of us used to go out drinking together and decided to get together. We didn't really know each other that well at this time. We started jamming and writing some material. After 3 or 4 vocalist auditions, we found the right vocal style and personality in Ben and started writing a set. We spent about 6 months writing the set to ensure we were tight and prepared for the first show as it was with Dead Swans.
DP!: What's the story behind the name of the band?
GT: We wanted a two-word band name as we felt it was short and snappy. We wanted the word "Golden" in it. After much deliberation, someone suggested we call it Golden Tanks. We were aware this was already the name of a Cancer Bats song and we were originally dubious about it, but they are one of our biggest influences and we felt the name would suit our style of music.
DP!: As a still relatively unknown band, a lot of people reading this may not have heard your music yet. How would you best describe your sound and style?
GT: Punk 'n' Roll – Fast paced, hard-hitting, raw and honest British music.
DP!: As part of the festival tour stage, you'll be performing at this year's Slam Dunk, Download and Hevy festivals. Do you think you're prepared?
GT: We've been playing as a band for around three years and have shared the stages with many well-known bands, but before this we were yet to get the break we needed. We feel we're prepared and are going to take this awesome opportunity with both hands. We're excited for the summer and can't wait to show everyone at the festivals what we are about.
DP!: Is there any particular festival you'll be heading to that you're most looking forward to?
GT: Definitely Download, as it's one of the most prestigious festivals in the UK. We've all been going to Download every year since we were in our early teens.
DP!: Why should people come and check out your set at one of the festivals or on an upcoming tour?
GT: People should definitely check out our live as we pride ourselves on our live shows. Our live sets are full of energy, and we play every set from the heart, whether it is to 5 or 500 people.
DP!: Have you managed to check out and listen to any of the other bands who've made it to this stage of the RBBJ contest?
GT: Yeah, there are some awesome bands we will be competing against in the competition. Dead Harts, I Divide and Adelaide are all great bands that we regularly hear about in the underground scene.
DP!: What's in the pipeline for you guys so far this year?
GT: We've been demoing our debut album, the follow up to our self-titled EP. We're going to be shipping the demos, once completed, out to a number of independent record labels. We're on loads of sick tours too over the summer, including our first tours to Mainland Europe and Scotland. We love touring and like to get on the road away from our jobs as much as possible.
DP!: Finally, is there anything else that you'd like to add and share with our readers?
GT: If you see any of us at the festivals, come say hello and have a beer with us! We love to party and meet new people and the festivals will be a great opportunity to do that.