This year's Red Bull Bedroom Jam final 8 bands have just wrapped up what to most bands would be a once in a life-time experience: performing a set at Donington's Download Festival. Along with a set at Slam Dunk a few weeks prior, we got in touch with pop-punkers Adelaide to talk about their experiences so far and what they've got planned very soon: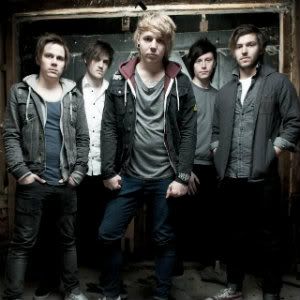 DP!: First off, congratulations on making it through to the festival tour stage of the RBBJ. How does it feel to have made it this far?
A: Thank you very much. It feels kind of like that voice over off the Money Supermarket advert. There's some proper bog standard Brit called Jeff and Patrick Stewart's voice over is there to tell the world he feels epic. Well, to sum up, that's exactly how we feel.
DP!: Could you please tell us where you guys are from and how the band came together?
A: Geographically, we're from all over the shop but are based in South East London. If anyone looked at our band from the outside, they would think we're super manufactured as there's more than 7000 accents and languages between us and we cover all corners of the globe; from Wales to Yorkshire and back. We all met through an online dating site under the impression we were hooking up with a busty model from the Ukraine, but when we got there it was just us lot. We should have realised there was something wrong when we all arranged to meet at a Wetherspoons in Grimsby, but it seems it was fate.
DP!: What's the story behind the name of the band?
A: To be honest, we haven't got an overly cool story behind our name at all. We went through a million name changes trying to settle on one that represented us best and our guitarist Lloyd came out with it. We all thought it sounded tidy so rolled with it.
DP!: As a still relatively unknown band, a lot of people reading this may not have heard your music yet. How would you best describe your sound and style?
A: Fast paced and hard hitting, like the small majority of our sex lives.
DP!: You've just wrapped up your festival performance at Download as part of the RBBJ contest. How did you find it?
A: It was immense. Just to know you're sharing the stage with so many influential bands makes it special before you've even started. We really enjoyed the set we played and felt the reception was overwhelming for a band of our size. Fingers crossed, we get to do it all over again next year.
DP!: Is there any particular festival you'll be heading to that you're most looking forward to?
A: If we're honest, as cliché as it sounds, we feel beyond thrilled to be playing every single one of the fests that the Red Bull Bedroom Jam have put us on. We all have personal favourites simply down to particular bands we like, but obvious highlights were when we performed on the same day as legends like Black Sabbath and Refused over the weekend.
DP!: Why should people come and check out your set at one of the festivals or on an upcoming tour?
A: Like we said before, what we do is fast paced and hard hitting. What more could you want on a night out?! But, seriously, we're all about making sure everyone connects to what we do and vice versa. We want to party like everyone else and our show is all about providing the anthem to do just that.
DP!: Have you managed to check out and listen to any of the other bands who've made it to this stage of the RBBJ contest?
A: We checked out several of the other RBBJ bands at Slam Dunk and are looking forward to watching how everyone steps up their game for the next festival. Everyone's in the same position (being in competition with each other), but there's such a good vibe between all the acts. We're here to share what we do with all that care to listen as the other acts are, so we just want to make the most out of it by having as much fun with everyone as possible.
DP!: What's in the pipeline for you guys so far this year?
A: We have two tours in June, the second being a shared headliner with last year's RBBJ winners, Page 44. We'll be releasing a free acoustic EP with four mini videos to accompany each track, which will be released and streamed weekly through out June. We'll be giving the whole thing away for free once it's all out there, before going in to the studio at the end of July to record two new singles. We intend to get the first of those out at the end of the Summer whilst finishing off our album, and then just hit the road… hopefully forever.
DP!: Finally, is there anything else that you'd like to add and share with our readers?
A: Google hard hitting and fast paced: if a bazillion pictures of us don't show up then the world has gone tits up.