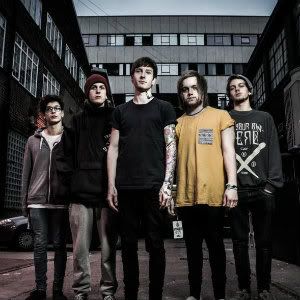 Getting the final winners position of this year's Red Bull Bedroom Jam as the judge's wild card choice, Leeds post-hardcore group The Ocean Between Us didn't have to get involved with the whole performing live in the bedroom part of the competition. We caught up with the lucky lads and talked about how it feels to be alongside the other winners, as well as teeth being knocked out at their Download Festival performance:
Zach: So guys, how does it feel to be one of the eight winners from this year's Red Bull Bedroom Jam contest?
TOBU: It feels great. It's a compliment to be chosen as the wild card out of so many bands in the competition, so we're really happy and stoked to be doing the festivals this Summer.
Zach: Did you ever expect that you'd ever win it when you first entered into the contest?
TOBU: Obviously we entered hoping to win like everyone else, but I don't think we actually considered that we were going to win. In fact, at one stage we almost gave up, and then we came back tried and next thing we got given the wild card.
Zach: You've already performed at Download Festival, the first festival you'll be performing at from winning the competition, how did you find your set went there?
TOBU: The set went well I think.The crowd was big and we had pits from start to finish, so we're certainly happy with how the set went, and you guys gave us 9/10 which beat some of my favourite bands over the whole weekend.
Zach: We saw a tooth go flying at one point during that show, how the hell did that happen and how did you manage to sort it out after the set was over?
TOBU: I have no idea. I think Judd (vocalist) just knocked it out on his mic when he jumped down into the barrier or something. When we came off stage our label manager Ian had arranged for an ambulance to check him out, and he got taken to Wilkos to get some super glue to put it back in. Not even joking.
Zach: How did it compare performing at such a prestigious festival like that as opposed to your usual sized gigs?
TOBU: Awesome. It was so professional and laid back, and everything ran so much smoother than normal, haha.
Zach: Have you managed to meet or have you made friends with any other winners from this year's RBBJ contest?
TOBU: Yeah, we all had some beers in the hotel after the Metal Hammer awards and everyone gets on. All the bands are cool so it's all fun.
Zach: You've got a bunch more festival appearances coming your way this year, including Sonisphere and Hevy, which festival are you looking forward to performing at the most?
TOBU: Sonisphere now I think after Download.
Zach: You've also got a slot at Ghostfest this weekend, which isn't affiliated with the RBBJ scheme, are you all prepared for that show?
TOBU: Yeah. We've actually practiced zero times since Download, so we're gonna have a few drinks tonight and maybe get the acoustic guitars out to run through some songs. But we're pretty excited for Ghostfest as it's in our hometown, so it will be nice to see what the local folk think about us nowadays.
Zach: Why should people heading to any of the other festivals your performing at stop by and check out your set?
TOBU: Because if you like the kind of gig where people lose their teeth, then you're definitely coming to the right place.
Zach: With only one EP under your belt at the moment you've only got a few songs worth to include in your set, does that make it difficult when trying to keep a performance bulked out?
TOBU: We don't have a great deal of songs, but we play all of the EP and a new song live at the moment. As we're not doing any major headline shows right now, I think it's just enough to grab people's attention, rather than bore them to death with like an hour long set or something, haha.
Zach: Is there any news you can share with us on a new EP or album in the near future?
TOBU: There's nothing set in stone at the moment, but you can definitely expect some new material by the end of the year.
Zach: Finally, is there anything else you'd like to add or share with our readers?
TOBU: We have a new video for one of our tracks coming out this Summer, so keep your eyes peeled.
You can catch the band's Red Bull Bedroom Jam entry video by clicking here.
Written by Zach Redrup