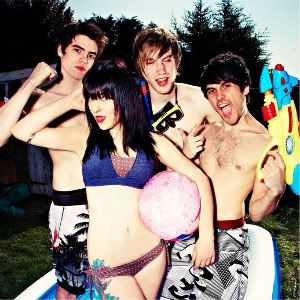 We all know that pop-punk is a great genre of music that's very fitting for the Summer season, so it's great that Chelmsford outfit The Hype Theory will providing their own Summer tunes at a bunch of festivals across the UK this year after becoming one of the eight winners of the Red Bull Bedroom Jam competition. After completing their first festival appearance at Download earlier this month, we checked in on the band to see how they're feeling for the remaining festivals ahead:
Zach: So guys (and girl), how does it feel to be one of the winners of this year's Red Bull Bedroom Jam competition?
THT: It feels amazing. We were so shocked that we were chosen to play such big festivals, and we can not thank our fans enough for making it happen.
Zach: Did you ever expect that you'd ever win it when you first entered into the contest?
THT: No. The chances of us even making it through to the live broadcast stage were very slim, so for us to make it through to the festival stage was a complete shock.
Zach: How did you find recording and shooting your performance live from your bedroom?
THT: It was a crazy day. It started at around 10:00AM and we had to try and fit our set up in a small space, and having loads of cameras around was very odd but really exciting.
Zach: You've already performed at Download Festival, the first festival you'll be performing at from winning the competition, how did you find your set went there?
THT: It was surreal. It was the first festival we have played as a band and it was Download, we had to pinch our selves to check we weren't dreaming. The set was really fun. We had a big impression to make and a lot of people to impress and win over, so we made sure we brought out the big guns.
Zach: How did it compare performing at such a prestigious festival like that as opposed to your usual sized gigs?
THT: It was completely different. When we play the smaller show, people are there to see us. But when you play a festival, you are up against so many other bands which are all much bigger than you, so we had to work much harder to give people a reason to watch us over Thin Lizzy, who were on the main stage.
Zach: Have you managed to meet or have you made friends with any other winners from this year's RBBJ contest?
THT: Yes! We have made good friends with everyone, all the other bands are great and such lovely guys. We are all set for the Summer of our lives.
Zach: You've got a bunch more festival appearances coming your way this year, including Sonisphere and Hevy, which festival are you looking forward to performing at the most?
THT: We are really looking forward to playing with our favourite bands You Me At Six and All Time Low at Sonisphere and then following them up the country to T In The Park the next day.
Zach: Why should people heading to any of the other festivals your performing at stop by and check out your set?
THT: Because we like to party! We deliver a high energy show with massive vocals and loads of sing along choruses.
Zach: Obviously with being a female-fronted pop-punk band, you're subject to many comparisons to the likes of Paramore and Hey Monday, is that something you take as a compliment or do you find it a little annoying that people automatically choose to use that pidgeon-hole?
THT: Obviously it's a massive compliment to be mentioned in the same sentence as such great bands, and we understand the natural comparison. It does get frustrating sometimes when people can't see past the fact that we are female fronted, and just listen to the music. There are a million male fronted bands, but they don't all get compared to each other just because they are male fronted.
Zach: You've got a new single called 'Kid At Heart' out on August 8th, can you tell us a little bit about the song and its accompanying video?
THT: The song is about young love and the feeling you get when you first meet someone and are inseparable for the whole Summer. The music video is a documentary style video, which follows us around for the Summer and shows you what we get up to. The single will be available on USB wrist bands instead of CDs, and will contain a bunch of exciting exclusives and goodies.
Zach: Is there any news you can share with us on a new EP or album in the near future?
THT: There is an album and it will be released in September, accompanied by a tour and a massive party. So, keep an eye on our Facebook page for all the details and developments.
Zach: Finally, is there anything else you'd like to add or share with our readers?
THT: Check us out on Facebook and come say hi. We would love to hear from every one of you!
You can catch the band's Red Bull Bedroom Jam live performance by clicking here.
Written by Zach Redrup