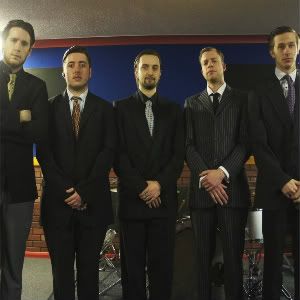 Not to be confused with Flood Of Red for the slightly similar names, St. Albans outfit Floods bring are far more ferocious and in-your-face melodic hardcore injection into the Red Bull Bedroom Jam 2011 winner circle, and judging from their recent music video, they know how to have a laugh too. We talked to the band about their RBBJ win, the aforementioned music video and a few other things too:
Zach: So guys, how does it feel to be one of the eight winners from this year's Red Bull Bedroom Jam contest?
Floods: Awesome. It's not every day you are chosen out of hundreds of other bands to play a load of awesome festivals, and it's very rare that something this good happens to us.
Zach: Did you ever expect that you'd ever win it when you first entered into the contest?
Floods: No, not at all. We're very pessimistic with stuff like that. I personally didn't want to get my hopes up at any point in case we didn't get through, and even if I entertained that idea, I wasn't too sure we'd be picked by any of the judges.
Zach: How did you find recording and shooting your performance live from your bedroom?
Floods: It was an odd day, a lot of rehearsal and waiting around. By the time we had to do the actual live jam, I think we were all pretty tired and worn out, haha.
Zach: You've already performed at Download Festival, the first festival you'll be performing at from winning the competition, how did you find your set went there?
Floods: I'd like to think it went really well, but it's not really for me to say! We're getting a lot of positive feedback from it, and I think I speak for all of us when I say it was a lot of fun. The whole weekend was awesome as well, we got to meet some pretty cool people and see a lot of friends that we hadn't seen in a while.
Zach: How did it compare performing at such a prestigious festival like that as opposed to your usual sized gigs?
Floods: It was a lot more daunting, because it was to a fair few more people than we normally play to. And the stage was massive, easily one of the biggest that we've played on to date. We're normally crammed onto a tiny stage and end up smacking into each other a lot, so to be given all that space to move around in was awesome.
Zach: Have you managed to meet or have you made friends with any other winners from this year's RBBJ contest?
Floods: Yeah, I'd like to think so. I got let into a few of their hotel rooms at the Metal Hammer Awards and danced naked at them. I don't entirely remember exactly who I did it to, but I'm pretty sure Page 44 we're one of them, so I guess that means we're friends now. We got to meet our boys in Acoda for the first time. We're heading on tour with them in September, so was good to put faces to the names.
Zach: You've got a bunch more festival appearances coming your way this year, including Sonisphere and Hevy, which festival are you looking forward to performing at the most?
Floods: I think everyone of us except me are looking more forward to Sonisphere for The Big Four. I'm personally looking forward to Hevy because The Dillinger Escape Plan are playing.
Zach: Why should people heading to any of the other festivals your performing at stop by and check out your set?
Floods: We try and put everything into our live show, lots of energy and a lot of passion. If you're into your post-hardcore/punk and like watching grown men jump around a lot, then come check us out.
Zach: You've got a music video for 'You Convinced Me That I Needed It' which see you performing the song in a rehearsal room as well as going a bit silly with it like playing in your underwear, doing wheelbarrows and singing in the shower. How did you find the shoot for that?
Floods: It wasn't really a 'shoot'. Joe had just got a new digital camera that can film in HD, we were bored at practice and couldn't really be bothered to practice, so we just messed around and made a video instead. Most of the shots are all done in one take, and a lot of them were unusable. I hate bands that take themselves too seriously, so it was just fun to show that we don't.
Zach: Is there any news you can share with us on a new EP or album in the near future?
Floods: We're at the end of demoing our first album, which should hopefully be recorded and released towards the end of the year. It's a lot different to our EP, we're a different band now to when we started. It's more our sound and it represents us a lot better. A lot of the songs on it were written a year or so ago, so each track is pretty different. We didn't want to write an album that's ten of the same track.
Zach: Finally, is there anything else you'd like to add or share with our readers?
Floods: Please check us out on our Facebook or Twitter, and try and catch us on one of our upcoming dates in July. We're on tour with A World Defined and Lychway, and then Acoda in September, as well as our festival appearances.
You can catch the band's Red Bull Bedroom Jam live performance video by clicking here.
Written by Zach Redrup