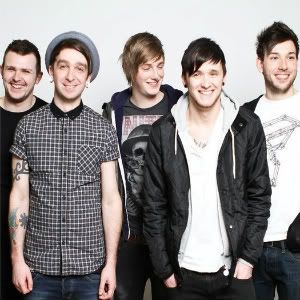 Though Autumn may be coming within the next few months, Autumn In Disguise still have one hell of a Summer to celebrate with after winning this year's Red Bull Bedroom Jam competition. Their brand of pop-punk is more than apt for the season too, with which they'll be sharing at several different major festivals across the UK. We got a hold of the band for a little chingwag of what could most definitely be their best Summer yet:
Zach: So guys, how does it feel to be one of the eight winners from this year's Red Bull Bedroom Jam contest?
AID: It feels incredible! It was a lot to take in so quickly, but a very exciting opportunity at the same time. We were announced last so it was very tense. We are very excited to be given the chance of doing what we enjoy at such a great scale. Bring it on!
Zach: Did you ever expect that you'd ever win it when you first entered into the contest?
AID: We never thought we had a chance when we first entered. But, with such great feedback and support so early on from our fans and people who had never heard our music, it quickly became apparent that we might have had some chance. To get through and win at the end was nothing we could have expected though.
Zach: How did you find recording and shooting your performance live from your bedroom?
AID: It was crazy. To perform our set in such a tight, small space was hard, a lot harder than it looks. We normally like to jump, climb, run about and jump into the crowd. At the time, performing with so many people, cameras and equipment was nuts, very hot and very loud. We missed the crowd involvement part, but we obviously loved every minute of it, and the crew from the Red Bull Bedroom Jam were a lot of fun too.
Zach: You've already performed at Download Festival, the first festival you'll be performing at from winning the competition, how did you find your set went there?
AID: Download Festival was insane. We were lucky to have a packed tent, and it was great to see so many people getting involved, singing along and clapping. We were all pretty nervous, but when we all get on stage and start playing it doesn't matter. We found our feet and just rocked out. We love playing music, and to be able to do it at Download in a tent that size was a great feeling. We met so many familiar and new faces. Camping, hanging out and partying with some awesome bands and new friends. Bring on the next one!
Zach: How did it compare performing at such a prestigious festival like that as opposed to your usual sized gigs?
AID: As a band, Autumn In Disguise have been lucky enough to say that the majority of our gigs have been really busy with a few great sold out crowds. However, no matter how much we tried to imagine it was our local venue sold out, it was still many times the size. Our first ever festival performance, and it was Download. It was still great to get down the front and in people's faces and have them singing along with us.
Zach: Have you managed to meet or have you made friends with any other winners from this year's RBBJ contest?
AID: Definitely. The bands are all fantastic and very fun, friendly people to be around. I think we are enjoying being able to see and watch other bands sets as there is such a diverse style of music across the winners from this year's contest, which is good to see. It's good to have our fellow Scottish friends in MakethisRelate with us on this adventure. I think we might see some killer tours around after the festivals. Surely some bands to watch.
Zach: You've got a bunch more festival appearances coming your way this year, including Sonisphere and Hevy, which festival are you looking forward to performing at the most?
AID: Being the only Scottish festival, I think a lot of us are looking forward to playing T In The Park. Autumn In Disguise are looking forward to a good home crowd there. Sonisphere has an incredible line-up, and it will be such an honour to perform on the same weekend as so many quality acts. Hevy is going to be another cracker, and has a very exciting line-up and different sort of audience that we are looking forward to playing too. We all have our favourites I think, but being able to pick one would be impossible as we would be happy at being given the chance to play a single festival, nevermind all of them.
Zach: Why should people heading to any of the other festivals your performing at stop by and check out your set?
AID: We try and enjoy our sets as much as possible, which I think comes across in our energetic, crowd-involving performance, delivering a string of songs that has something for everyone. We do this to have a good time and ensure everyone watching does too. Having everyone leaving, wanting to hear more.
Zach: You released a new music video for 'Let's Call This A Home Run' not too long ago, how did you find the shoot for that?
AID: The video shoot was great fun. It's not something you get to do everyday, so we aimed to enjoy it as much as we could. It was an early shoot, after a night out for most so we weren't as fresh faced as we'd hoped, but we pulled it together to create and finish something that we are all proud of. The location was grand and such a beautiful old place. We had every possible type of weather going on which was crazy, but we enjoyed every minute of it, and I think that shows in the video. Check it out.
Zach: Is there any news you can share with us on a new EP or album in the near future?
AID: Our new material is coming together very well. Every track becomes a favourite, which we think is a good sign. Our new sound is something we are all enjoying very much. It has matured a hell of a lot from our first EP. There will definitely be something for everyone in our new release, with some surprises and venue busters. We love our energetic shows, and we want that to come across in our music and videos. Autumn In Disguise can't wait to get back in the studio and record everything and share it with everyone. We just have to decide how many tracks.
Zach: Finally, is there anything else you'd like to add or share with our readers?
AID: Come check us out on Facebook and of course in person. We will be touring very soon and causing chaos at venues all over the UK, so have a listen to our tracks and come join us. Every member of Autumn In Disguise is 100% involved and we read, reply and talk to anyone who shares an interest in the music we make.
You can catch the band's Red Bull Bedroom Jam live performance video by clicking here.
Written by Zach Redrup
Founder & Editor for DEAD PRESS!