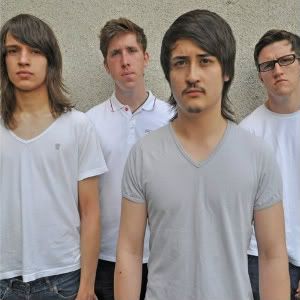 Coming out as one of the first announced winners of the 2011 Red Bull Bedroom Jam competition, Corby's ACODA have garnered more than enough experience and attention with their brand of metal. Despite not having a full-length album out just yet, the four-piece have still managed to play shows outside of the UK. We caught up with them shortly after their Download Festival weekend to see how it feels to be a winner:
Zach: So guys, how does it feel to be one of the eight winners from this year's Red Bull Bedroom Jam contest?
ACODA: It feels really good! The Red Bull Bedroom Jam was pretty intense this year, and to pull through to the festival stage with the support of our fans is great.
Zach: Did you ever expect that you'd ever win it when you first entered into the contest?
ACODA: We were pretty focused on what we wanted to achieve, which was to get ourselves into the festival chart and in front of the judges. We didn't really put too much thought into what might happen afterwards.
Zach: How did you find recording and shooting your performance live from your bedroom?
ACODA: It's actually a huge operation to put on that sort of thing. We were pretty well rehearsed with what we were going to do for the set, so it was just a case of us letting the Red Bull team do their job and not give them any trouble. Stand in the right place, don't change our settings after sound check etc. They were all cool guys so it was a pretty relaxed affair, and we were all happy with the end result.
Zach: You've already performed at Download Festival, the first festival you'll be performing at from winning the competition, how did you find your set went there?
ACODA: The first two minutes of Download were sketchy as hell! I think all of the tech difficulties happened during our instrumental intro! Once we kicked into the first track, 'I Creep' though, things went pretty smoothly. The whole thing is a bit of a blur. The tent was rammed, and it's definitely the biggest crowd we've played for to date. We got some sweet feedback and hopefully gained some new fans, but I think we would have been happy either way, just because we got to play Download, haha.
Zach: How did it compare performing at such a prestigious festival like that as opposed to your usual sized gigs?
ACODA: Monitors! We absolutely LOVE playing gigs with monitors, haha. Obviously the sound quality, stage size and crowd size are the main differences to the usual type of show that we play. Plus with the whole festival thing, you feel like you're part of something a lot bigger than just a gig. It's like this huge community. It's very cool.
Zach: Have you managed to meet or have you made friends with any other winners from this year's RBBJ contest?
ACODA: We've met all of the bands and everyone is sound. We haven't been able to watch everyone yet, but we've enjoyed watching Floods, The Hype Theory and Autumn In Disguise. The Ocean Between Us are all absolute dudes as well. Their singer smashed his tooth out two songs into their set at Download. That's pretty rock n' roll if you ask me!
Zach: You've got a bunch more festival appearances coming your way this year, including Sonisphere and Hevy, which festival are you looking forward to performing at the most?
ACODA: Well Download was the biggy for us I think, as we've been going as punters for years now. The rest of the festivals are first time visits for us, so we're just going into every show with wide eyed enthusiasm.
Zach: Why should people heading to any of the other festivals your performing at stop by and check out your set?
ACODA: I think we're the type of band you can watch, without having heard us at all, and still enjoy. Is that a good reason?
Zach: You're currently selling your debut single, 'Finding Your Feet', on the iTunes store, what's the song about and why did you decide to release that as your first single?
ACODA: The song is pretty much a letter to myself. I always seem to find myself thinking very negatively about things and beating myself up over the choices I make and stuff like that. I suppose 'Finding Your Feet' was me saying to myself; "Dude, it's not that bad. Stay positive and finish what you've started". It was the first single simply because it was the best song we had at the time.
Zach: You've already played shows outside of the UK, including places like Germany and Switzerland. How would you compare the music scene over there to that of the UK?
ACODA: When we were out in mainland Europe we were treated so well. You always get fed and we never had problems with getting paid or stuff like that. There always seemed to be a pretty decent turnout as well, which was cool. We need to get back out there! In comparison to the UK? It's exciting to play Europe I suppose 'cause of all of the travelling and stuff. You feel like you're on holiday. Having said that, there's still alot of places in the UK that we haven't visited yet.
Zach: Is there any news you can share with us on a new EP or album in the near future?
ACODA: We recorded our debut full-length in April at Studio Glasseye in Hatfield. We're just waiting on the final mixes now. What we have heard so far has got us all really excited for the rest of the tracks. We're hoping to release it within the next few months, just after all the Summer festivals.
Zach: Finally, is there anything else that you'd like to add or share with our readers?
ACODA: We're on all the usual social networks like Twitter and Facespace, but ideally we'd like people to come and catch us at a show. We're touring in September with Floods, so that's the ideal opportunity. Other than that? Stick with us 'til we get our album out, and be excellent to each other.
You can catch the band's Red Bull Bedroom Jam live performance by clicking here.
Written by Zach Redrup