Post-hardcore outfit Thrice have confirmed the pre-order details for their forthcoming live recording, 'Anthology', which will be released on October 29th 2012. The album's artwork, tracklist and full pre-order options are detailed below: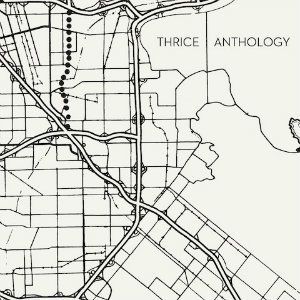 01.) Yellow Belly
02.) Image Of The Invisible
03.) The Artist In The Ambulance
04.) Kill Me Quickly
05.) Under A Killing Moon
06.) Silhouette
07.) In Exile
08.) The Weight
09.) Promises
10.) Daedalus
11.) Words In The Water
12.) Of Dust And Nations
13.) Red Sky
14.) The Earth Will Shake
15.) The Messenger
16.) Digital Sea
17.) Stare At The Sun
18.) Deadbolt
19.) To Awake And Avenge The Dead
20.) Beggars
21.) Come All You Weary
22.) Phoenix Ignition
23.) T & C
24.) Anthology
'Anthology' features 24 songs and will be available digitally, on 2xCDs and also as a limited edition box set containing four LPs. The LP box set is limited to just 3000 stamped and numbered pieces and will include a 24-page photo booklet along with 2 black LPs and 2 white LPs all on 180 gram vinyl.
Fans can go to www.thrice.cinderblock.com to choose among the following options:
1.) Music Only – starting at $9.99 ($9.99 digital $11.99 CD, $59.99 vinyl)
Includes:
– Digital, Double CD or 4 LP/180 Gram Vinyl Box Set
– Instant download of the song 'Anthology'
2.) T-Shirt Bundle – starting at $29.99 ($29.99 w/ digital, $31.99 w/ CD, $79.99 w/ vinyl)
Includes:
– Digital, Double CD or 4 LP/180 Gram Vinyl Box Set
– T-shirt
– Instant download of the song 'Anthology'
3.) Deluxe Bundle – starting at $49.99 ($49.99 w/ digital, $51.99 w/ CD, $99.99 w/ vinyl)
Includes:
– Digital, Double CD or 4 LP/180 Gram Vinyl Box Set
– T-shirt
– 12″x24″ Limited Edition, Hand Numbered Poster
– Instant download of the song 'Anthology'