Manchester's SummerJam festival, which we are proudly sponsoring this year, have now confirmed the stage times for all bands across both dates for this year's festival weekend, featuring Bury Tomorrow, Mallory Knox, Heights, Yashin and more. Full stage times are below: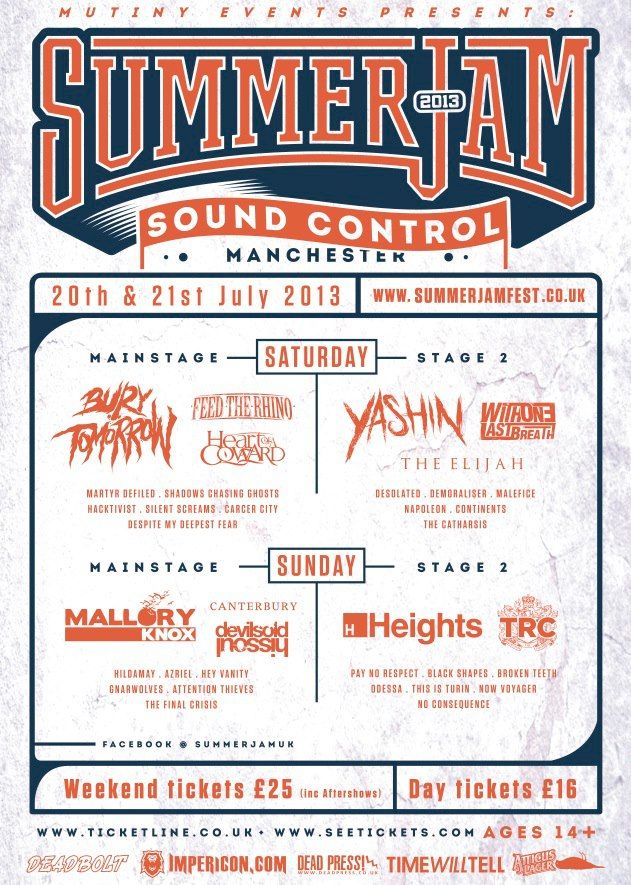 SATURDAY – JULY 20TH:
MAIN STAGE
3:00PM – Despite My Deepest Fear
3:45PM – Carcer City
4:30PM – Silent Screams
5:15PM – Hacktivist
6:00PM – Shadows Chasing Ghosts
6:45PM – Martyr Defiled
7:30PM – Heart Of A Coward
8:15PM – Feed The Rhino
9:10PM – Bury Tomorrow
SECOND STAGE
2:45PM – The Catharsis
3:30PM – Continents
4:15PM – Napoleon
5:00PM – Malefice
5:45PM – Demoraliser
6:30PM – Desolated
7:15PM – The Elijah
8:00PM – With One Last Breath
9:00PM – Yashin
SUNDAY – JULY 21
MAIN STAGE
3:00PM – The Final Crisis
3:45PM – Attention Thieves
4:30PM – Gnarwolves
5:15PM – Hey Vanity
6:00PM – Azriel
6:45PM – Hildamay
7:30PM – Devil Sold His Soul
8:15PM – Canterbury
9:10PM – Mallory Knox
SECOND STAGE:
2:45PM – No Consequence
3:30PM – Now, Voyager
4:15PM – This Is Turin
5:00PM – Odessa
5:45PM – Broken Teeth
6:30PM – Black Shapes
7:15PM – Pay No Respect
8:00PM – TRC
9:00PM – Heights
Tickets for this year's SummerJam are on sale now, with weekend tickets priced at £25 (here) and day tickets priced at £16 each for either Saturday (here) or Sunday (here).
You can also find the festival Facebook event page here.
Founder & Editor for DEAD PRESS!