Along with the three main festival dates of Slam Dunk Festival (Leeds, Hatfield, Wolverhampton), there has now been dates confirmed in Wales, Scotland and Ireland for this year. All three dates will feature select bands from the main festival line-up and be headlined by Four Year Strong. Pierce The Veil will also join on the Welsh and Scottish date. More information on these shows can be found below: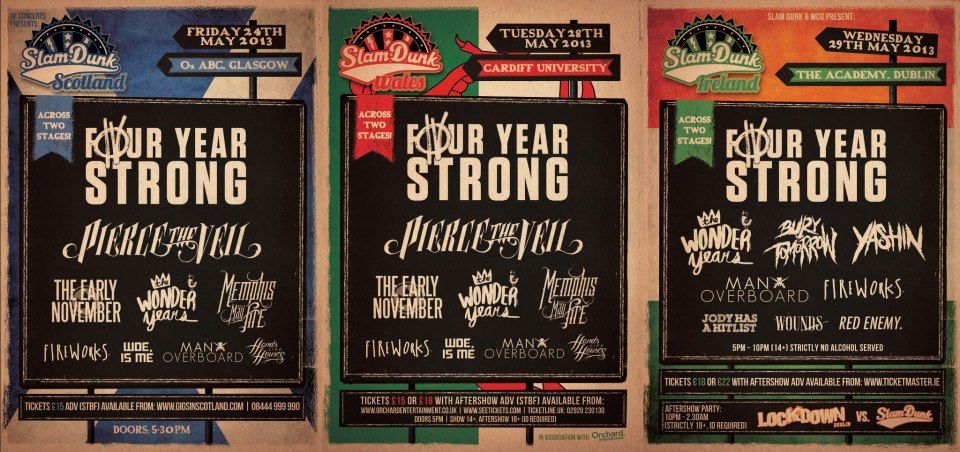 Bury Tomorrow (Ireland only)
The Early November
Fireworks
Four Year Strong
Hands Like Houses
Jody Has A Hitlist (Ireland only)
Man Overboard
Memphis May Fire
Pierce The Veil (Scotland and Wales only)
Red Enemy (Ireland only)
Woe, Is Me
The Wonder Years
Wounds (Ireland only)
Yashin (Ireland only)
MAY 24 – GLASGOW, O2 ABC (Slam Dunk Scotland) [Facebook]
Tickets are priced at £15 and are available from www.gigsinscotland.com or 08444 999 990. Aftershow details to be announced soon.
MAY 28 – CARDIFF, University (Slam Dunk Wales) [Facebook]
Tickets are priced at £15 (£18 including aftershow) and are available from www.ticketline.co.uk or 02920 230130.
MAY 29 – DUBLIN, The Academy (Slam Dunk Ireland) [Facebook]
Tickets are priced at 18 Euros or 22 Euros (including booking fee) and are available from www.ticketmaster.ie.
All shows are 14 + and all aftershows are 18+. Tickets go on sale from 10:00AM this Friday (February 1st 2013).