Returning for its 8th consecutive year, Slam Dunk Festival have confirmed its first wave of bands for the line-up that will create 2013's festivities. The festival weekend will be headlined by Maryland based pop-punkers, All Time Low. The full roster of bands currently composing the line-up are listed below, along with an official poster: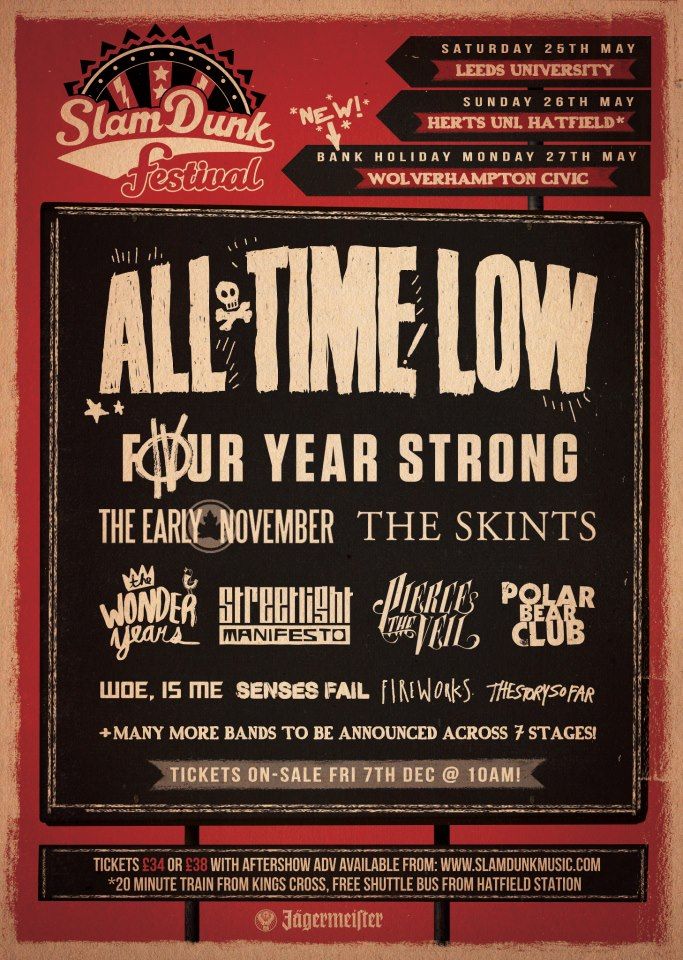 All Time Low
Pierce The Veil
Streetlight Manifesto
Woe, Is Me
The Early November
The Wonder Years
Fireworks
Four Year Strong
The Story So Far
Senses Fail
The Skints
Polar Bear Club
…and many more to be announced
Along with this, the festival has now also been extended to a third day, now settling itself with a Midlands date at Wolverhampton Civic Hall which will consist of the entire festival line-up that already takes place in both Leeds and Hatfield. The confirmed dates for the festival and their respective venues/locations are as follows:
MAY 25 – LEEDS, University (Slam Dunk Festival North)
MAY 26 – HATFIELD, Herts University (Slam Dunk Festival South)
MAY 27 – WOLVERHAMPTON, Civic Hall (Slam Dunk Festival Midlands)
All shows are 14+ and aftershows are 18+. Tickets for all three dates of the festival go on sale this Friday (December 7th 2012) from 10:00AM, priced at £34 or £38 including the aftershow party. For full details, head over to the festival's official website (here).