Already boasting All Time Low as this year's headlining act, the annual Slam Dunk Festival have now announced their second wave of bands to join the line-up, including Sleeping With Sirens, Memphis May Fire, Mallory Knox and more. The current festival line-up including the latest additions are listed below along with an updated flyer: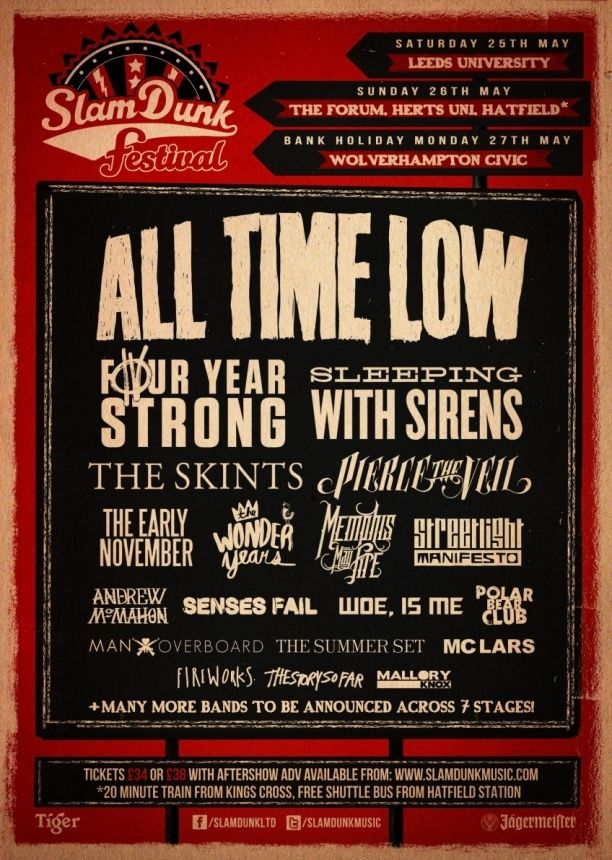 All Time Low
Andrew McMahon *
The Early November
Fireworks
Four Year Strong
Mallory Knox *
Man Overboard *
MC Lars *
Memphis May Fire *
Pierce The Veil
Polar Bear Club
Senses Fail
The Skints
Sleeping With Sirens *
Streetlight Manifesto
The Story So Far
The Summer Set *
Woe, Is Me
The Wonder Years
* = latest addition
MAY 25 – LEEDS, University (Slam Dunk Festival North)
MAY 26 – HATFIELD, Herts University (Slam Dunk Festival South)
MAY 27 – WOLVERHAMPTON, Civic Hall (Slam Dunk Festival Midlands)
All shows are 14+ and aftershows are 18+. Tickets for all three dates of the festival go on sale this Friday (December 7th 2012) from 10:00AM, priced at £34 or £38 including the aftershow party. For full details, head over to the festival's official website (here).