Savage Messiah have generously made their new album 'Plague Of Conscience' available for free download from the Earache Records website for free (e-mail is required, and all tracks are delivered as high-quality MP3 audio at 320kbps with no copy protection/DRM). You can head to the site's page to claim the download by clicking the album artwork below, where you'll also find its tracklisting: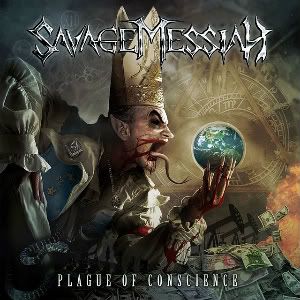 01.) Plague Of Conscience
02.) Six Feet Under The Gun
03.) Carnival Of Souls
04.) In Thought Alone
05.) All Seeing I
06.) Beyond A Shadow Of A Doubt
07.) Architects Of Fear
08.) The Accuser
09.) Shadowbound
10.) The Mask Of Anarchy
Frontman David Silver has also recorded a message for their fans about giving away the new album for free, which can be viewed here.