The latest installment in the Punk Goes… compilation series, 'Punk Goes Pop Vol. 4', is to see a UK release date. The album will be available within the UK from November 21st 2011, and the album's cover artwork and tracklist can be found below: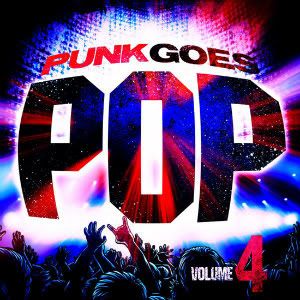 01.) Pierce The Veil – 'Just The Way You Are' (originally by Bruno Mars)
02.) Tonight Alive – 'Little Lion Man' (originally by Mumford & Sons)
03.) Woe, Is Me – 'Last Friday Night (T.G.I.F.)' (originally by Katy Perry)
04.) The Ready Set – 'Roll Up' (originally by Wiz Khalifa)
05.) Sleeping With Sirens – 'Fuck You' (originally by Cee Lo Green)
06.) Go Radio – 'Rolling In The Deep' (originally by Adele)
07.) For All Those Sleeping – 'You Belong With Me' (originally by Taylor Swift)
08.) Chunk! No, Captain Chunk! – 'We R Who We R' (originally by Ke$ha)
09.) A Skylit Drive – 'Love The Way You Lie' (originally by Eminem feat. Rihanna)
10.) Allstar Weekend – 'Yeah 3X' (originally by Chris Brown)
11.) I See Stars – 'Till The World Ends' (originally by Britney Spears)
12.) Silverstein – 'Runaway' (originally by Kanye West)
13.) The Downtown Fiction – 'Super Bass' (originally by Nicki Minaj)
You can pre-order the album digitally on iTunes now from here, or make a pre-order for the physical CD with a free wristband here.
Founder & Editor for DEAD PRESS! | Atheist and antitheist. | Judge of the quick & the dead since 1989.