Make-up faced metalcore act Motionless In White have announced that they'll be re-releasing their latest full-length 'Creatures' in the UK on April 2nd 2012 through Fearless Records. Along with the original 12 tracks, the re-release will also hold 3 new tracks, including a Rob Zombie cover. The new revised tracklist and artwork are as follows: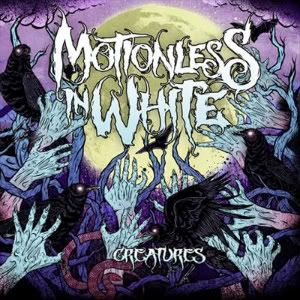 01.) Immaculate Misconception
02.) We Only Come Out At night
03.) London In Terror
04.) Abigail
05.) Creatures
06.) Cobwebs
07.) .com Pt. II
08.) Count Choculitis
09.) City Lights
10.) Puppets (The First Snow)
11.) Undead Ahead
12.) Scissorhands (The Last Snow)
Bonus Tracks:
13.) Dragula (Rob Zombie cover)
14.) Creatures (Beauty Remix by Celldweller)
15.) Mallevs Maleficarvm (Remix by Tim Skold)
You can read our review of the original release from 2010 by clicking here.