KoRn have unveiled details on their forthcoming tenth full-length studio album, titled 'The Path Of Totality'. The album is to be very experimental in comparison with their past releases, with the band working alongside a selection of dubstep and electro artists like Skrillex, 12th Planet and Datsik. The album is slated for a December 5th 2011 release, and its artwork and tracklisting can be seen below: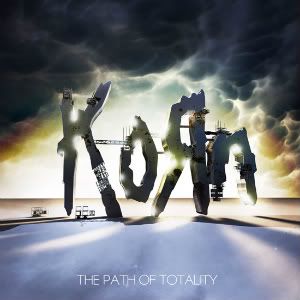 01.) Bleeding Out
02.) Chaos Lives In Everything
03.) Kill Mercy Within
04.) My Wall
05.) Narcissistic Cannibal
06.) Illuminati
07.) Burn The Obedient
08.) Sanctuary
09.) Let's Go
10.) Get Up!
11.) Way Too Far
12.) Fuels The Comedy (Special Edition bonus track)
13.) Tension (Special Edition bonus track)
The special edition of the release will also include a DVD of 'The Encounter', a full-length video concert of KoRn's once in a lifetime performance in the middle of a 900ft long crop circle in a Bakersfield wheatfield.